References
References
Documents
Latent Prints or DNA on Cartridges or Cartridge Cases?, pdf - This study examined the likelihood of recovering useable latent prints or DNA from fired cartridge cases and unfired cartridges. CCI and Cal DOJ Latent Print Section analysts performed the study.
Download the PDF presentation, pdf | Download the PDF report, pdf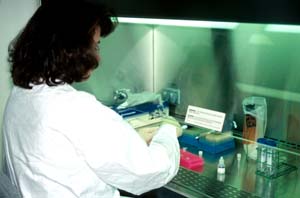 Evidence Packaging - A How-to Guide, pdf - For scene responders. Learn the best practices to safely handle and preserve evidence.
Biological Evidence Sampling & Handling: A Primer, pdf - A practical guide to best practices in the collection, packaging, and storage of biological evidence.
Effects of Common Latent Print Processing Reagents on PCR-Based DNA Typing, pdf - DOJ's Latent Print Section and CCI evaluated the effects of common Latent Print processing materials and procedures on the ability to successfully type biological samples.
Analysis of Old Biological Samples, pdf - Answers the question: Can you successfully type old samples - properly stored and otherwise? The feasibility of obtaining body fluid Identification and DNA typing results from samples 'aged' in various environments was studied.
Sub Class Characteristics of Sequentially Rifled 38 Special S&W Revolver Barrels, pfd - Fred Tulleners and James Hamiel (Submitted to AFTE for Publication).
---
Physical Evidence Bulletins (PEB)
---