Back on Track - Los Angeles (Project Overview)
Back on Track - Los Angeles (Project Overview)
Project Overview
Back on Track - Los Angeles (BOT-LA) is a comprehensive in and out-of-custody reentry program following evidence-based practices to assist offenders through rehabilitation and reentry services. Currently, BOT-LA serves AB109-sentenced male offenders in the LA County Jail at Pitchess Detention Center - South Facility.
The program is designed by CA DOJ, the Los Angeles County Sheriff's Department and the Los Angeles County Probation Department. The program provides a broad set of education, cognitive behavior training, and re-entry services to incarcerated men, the program helps offenders gain employment, find housing, and reunite with their families – all in order to build new, crime-free lives.
The team is currently conducting a process and outcome evaluation, focusing on the efficacy of the BOT-LA program.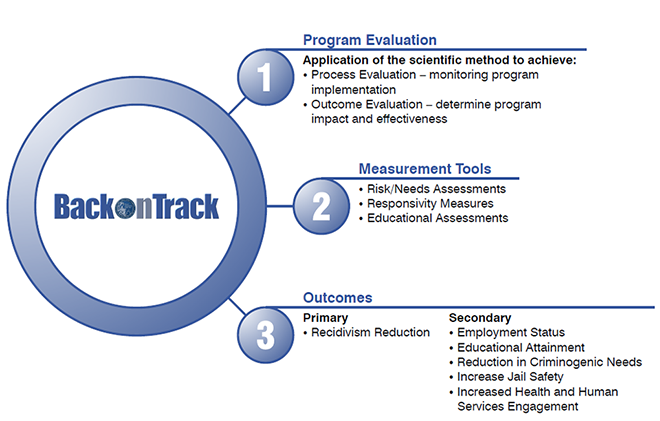 Logic Model (click to enlarge)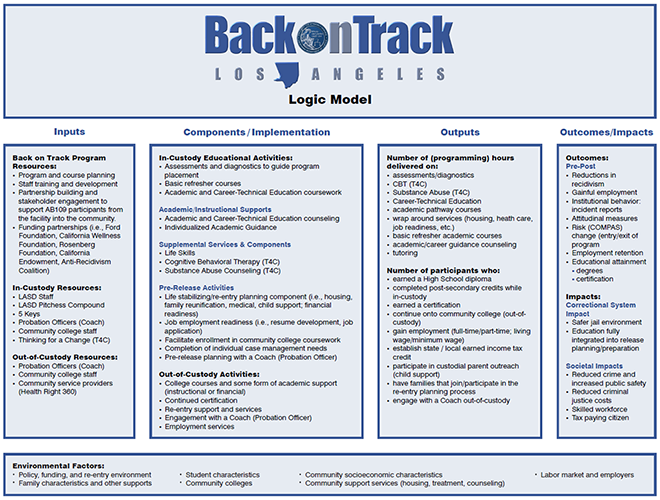 Links: