Chapter Two

California: A Hub for Transnational Criminal Activity
California is a global leader on a number of fronts and, unfortunately, transnational criminal activity is one of them (Figure 4). In 2012 alone, 305 drug-related transnational criminal organ-izations were found operating in the state, including Mexico-based drug cartels in at least 22 cities from Northern California to the southern border.20 Based in part on its population and network of interstate highways connecting the western U.S., California is a major portal through which drugs flow to other U.S. states and cities, as well as Canada. California is also the top state in the U.S. for human trafficking, due in part to its proximity to the U.S. southwest border, robust economy, and large immigrant population.21 Finally, with a gross domestic product of $2 trillion and substantial international trade activity, California's economic and financial infrastructure is often targeted for transnational criminal money laundering schemes.
Figure 4
Impact of Transnational Criminal Organizations in California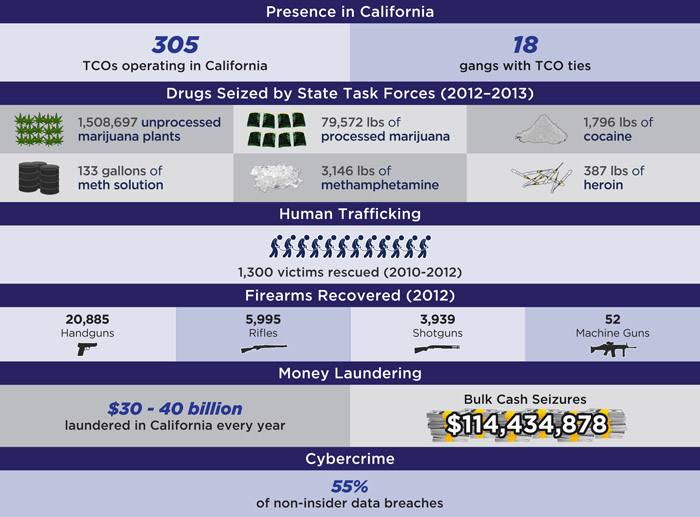 Drug Trafficking Is the Most Profitable Transnational Criminal Activity in California
Mexico-based drug cartels generate billions of dollars annually by trafficking drugs into California, both for sale within the state and as a staging base for distribution around the country. As shown below in Figure 5, the distribution routes traditionally follow major interstate highways, which are the most efficient routes to California's major urban areas. Typically, narcotics flow from San Diego to Los Angeles, where they can either continue up the Interstate Highway 5 to the Bay Area and Sacramento or move eastward to various distribution points in the U.S. or Canada.
Figure 5
Primary Narcotics Trafficking Routes in California (2014)
Source: CA State Threat Assessment Center
Transnational Criminal Organizations Traffic Processed Marijuana
Marijuana continues to be the most commonly trafficked and used narcotic in California.22 As the Drug Enforcement Administration recently observed in its 2013 National Drug Threat Assessment, Mexican drug trafficking organizations such as the Sinaloa cartel continue to operate large outdoor marijuana growing fields in Mexico.
However, in response to interdiction efforts at the border, Mexican-based drug cartels are increasingly growing marijuana on public land in California. This is forcing California to contend with not only marijuana smuggled into the state, but also with marijuana grown in California for distribution to other parts of the U.S. where prices tend to be higher.23
Figure 6
Counties with Task Force Seizures of Processed Marijuana
in Excess of 1,000 Pounds
(FY 2012-2013)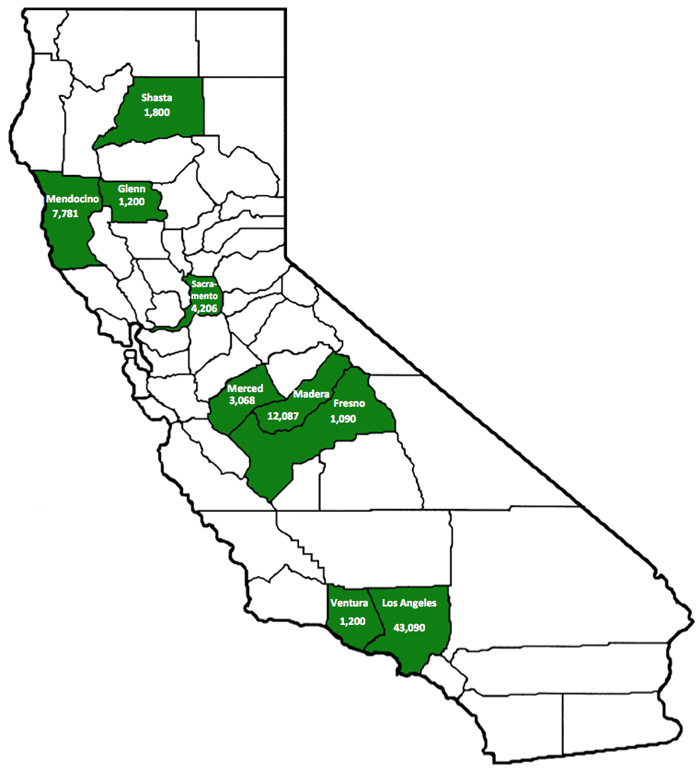 In the 2012-2013 fiscal year (from the beginning of July to the end of June), the central and southern parts of California accounted for the vast majority of processed marijuana seizures. Los Angeles County alone accounted for 54 percent (or 43,090 pounds) of statewide seizures.
Outdoor Marijuana Fields and Sophisticated Indoor Production Operations
The outdoor production of marijuana takes place primarily on public land in the Sacramento and San Joaquin Valleys, including within California's national forests, and creates a host of problems within the state. Worker exploitation is common, as the growing areas are often operated by Mexican nationals who are smuggled into the country and then forced to work to pay off a smuggling debt.25 In addition, outdoor marijuana fields produce significant environmental harms stemming from growers' use of pesticides, rodenticides, and fertilizers on the crops to expedite the growing process and protect the crops from insects or wild animals.26 Fires are also a threat particularly associated with outdoor cultivation. In August 2009, suspected Mexican drug trafficking organization workers tending to a 30,000-plant marijuana field in the Los Padres National Forest near Santa Barbara sparked a 136-square mile fire.27
In 2012-2013, Northern and Central California represented the most significant hot spots for outdoor marijuana cultivation. Of almost 1.5 million plants seized by state and local law enforcement in 2012-2013, the top five counties accounted for over 45 percent of the total statewide seizures.
Figure 7
Task Force Seizures of Outdoor Marijuana
Counties With Most Seized Outdoor Marijuana (FY 2012-2013)
1. Sacramento
181,541 plants
2. Madera
139,238 plants
3. Tulare
129,899 plants
4. Shasta
124,477 plants
5. Fresno
93,476 plants
Statewide Total
1,470,748 plants
Regional Impact: "The Inland Empire"
The Central Valley remained the primary hot spot for outdoor marijuana cultivation, accounting for a staggering $7.52 billion in outdoor marijuana seizures. But the Inland Empire (Riverside and San Bernardino Counties), though not ranked among the most impacted counties, outpaced seizures in other traditional outdoor marijuana hot spots such as the "Emerald Triangle" (Mendocino, Humboldt, and Trinity Counties):
| | |
| --- | --- |
| "Emerald Triangle": | 86,213 plants seized |
| "Inland Empire": | 142,515 plants seized |
In response to demand for high-grade marijuana (which can sell for up to 30 times the price of low-grade marijuana), Mexico-based drug trafficking organizations, as well as Asian organized crime groups, are growing increasing amounts of high-grade marijuana in indoor facilities in Alameda, Santa Clara, San Benito and Merced counties, and in Mexico. The state is also experiencing heavy indoor marijuana cultivation activity in the Bay Area, which law enforcement has attributed to the growing presence of Asian transnational criminal organizations like the Asian Warriors.28 The top six counties account for approximately 80 percent of statewide totals, with Alameda, Santa Clara, and San Benito counties making up three of these jurisdictions.
Figure 8
Task Force Seizures of Indoor Marijuana
Counties With Most Seized Indoor Marijuana (FY 2012-2013)
1. Shasta
11,138 plants
2. Mendocino
5,211 plants
3. Merced
4,155 plants
4. Alameda
3,541 plants
5. Santa Clara
3,153 plants
6. San Benito
2,937 plants
Statewide Total
37,949 plants
Transnational Criminal Organization Methamphetamine Trafficking Is on the Rise in California
California has also witnessed an increase in recent years in the availability of wholesale methamphetamine, particularly its most potent form, "ice," with the Sinaloa cartel driving supply.29 California is now the primary source for methamphetamine nationwide with as much as 70 percent of the U.S. foreign supply of methamphetamine being trafficked through the San Diego point of entry alone.30 Mexican drug trafficking organizations obtain multi-ton shipments of precursor chemicals, such as ephedrine and pseudo-ephedrine, from countries without strict chemical export regulations, like China or India. They then produce increasing amounts of methamphetamine in large "superlabs" inside Mexico,31 a substantial percentage of which is destined for California.
La Familia Michoacána (LFM)
With historic roots in Michoacán, Mexico, where it began as a vigilante group, this Mexican drug trafficking organization is known for its use of extreme violence and pseudo-religious propaganda to justify its criminal activities. Prior to the recent establishment of Sinaloa's near monopoly on the U.S. illicit drug market, LFM was mainly associated with large-scale methamphetamine trafficking in California's Central Valley as well as outdoor public land marijuana fields in national forests throughout the state. However, due in part to the reported December 10, 2010, death of LFM's main leader, Nazario Moreno Gonzalez, in a two-day firefight with the Mexican Federal Police, LFM has been significantly weakened in both Mexico and California.
Source: June S. Beittel, Mexico's Drug Trafficking Organizations: Source and Scope of the Violence, Congressional Research Service (Apr. 15, 2013), pp. 17-18.
According to the Office of National Drug Control Policy's National Methamphetamine and Pharmaceuticals Initiative, seizures of methamphetamine at points of entry along the U.S. southwest border have increased steadily over the past four years. As noted in Figure 9, methamphetamine seizures at California points of entry have more than tripled between 2009 and 2013 and now dwarf seizures in our sister border states.
Figure 9
Southwest Border Methamphetamine Seizures at Points of Entry (Kilograms)
(2009-2013)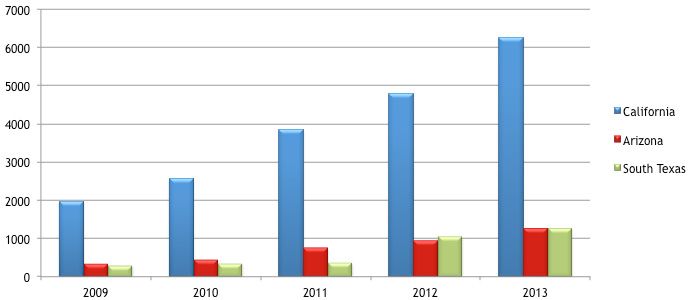 Source: CA State Threat Assessment Center (data from Office of National Drug Control Policy, National Methamphetamine and Pharmaceuticals Initiative)
Once "ice" has been smuggled into the state, two counties are now the destinations of choice for distribution. In 2012-2013, Los Angeles County in the south and Merced County in the Central Valley accounted for more than 66 percent of the "ice" seized in California (Figure 10).
Figure 10
Task Force Seizures of Ice
Counties With Most Seized Ice (FY 2012-2013)
1. Los Angeles
1,605 lbs.
2. Merced
475 lbs.
3. Fresno
206 lbs.
4. Riverside
196 lbs.
5. Orange
177 lbs.
6. San Mateo
177 lbs.
Statewide Total
3,146 lbs.
In other schemes, transnational criminal organization operatives refine methamphetamine in labs here in California, a majority of which can be found in the Central Valley. As with the cultivation of marijuana, these methamphetamine labs can cause severe environmental damage by contaminating manufacturing locations with hazardous chemicals. But meth labs pose an additional risk as well: they expose Californians to the potential for explosions due to the hazardous, often flammable, chemicals used to make methamphetamine. For example, in March 2012, officers in search of a stolen Apple iPad entered a San Jose apartment33 only to discover it was being used as a "refining lab" by a suspected Mexico-based transnational criminal organization to convert unrefined methamphetamine into the highly dangerous crystal methamphetamine.34 Subsequent testing revealed extensive contamination of both the apartment and adjacent residential units, which required substantial decontamination efforts.35
The rise in methamphetamine trafficking by drug cartels reinforces the need for robust funding for law enforcement. In this regard, federal funding is critical. In the Consolidated Appropriations Act of 2014 (Public Law No. 113-76), Congress approved Fiscal Year 2014 appropriations totaling $7.5 million toward the creation of a methamphetamine grant program. This timely and innovative program – which will be administered by the Community Oriented Policing Services Office in the U.S. Department of Justice – provides for competitive grants to state law enforcement agencies to combat methamphetamine production and trafficking in their states. The California Attorney General's Office and other state and national law enforcement leaders – including those from Alabama, Kentucky, Mississippi, Missouri, Tennessee and the National Narcotic Officers' Association Coalition – developed and advocated for the program's creation. And with the support and leadership of California's congressional delegation, states received a critical federal funding stream to further fight the drug cartels' lucrative methamphetamine trafficking trade. For California, this grant opportunity comes at an important time when an aggressive law enforcement response is vital to effectively combatting transnational criminal organizations.
Trafficking of Prescription Drugs Across the California-Mexico Border Has Increased, While Cocaine Trafficking Has Decreased
As prescription drug abuse becomes one of the fastest growing drug problems in California and across the country, law enforcement officials have observed an increase in the trafficking of pharmaceutical drugs (such as Hydrocodone, Oxycodone, Ritalin, Xanax, Morphine, Alprazolam, Diazepam, and Benzodiazepine) across the California-Mexico border.36 In some of these schemes, Mexican pharmacies fill prescriptions without a legitimate prescription and the drugs are smuggled into California. The drugs are then packaged and shipped via commercial mail services, frequently to customers who ordered the drugs over the Internet.37 In recent years, border agents have seen an uptick in seizure incidents involving prescription drugs.
In other schemes, stolen or illegally-acquired prescription drugs are smuggled out of California to Mexican pharmacies for distribution by drug trafficking organizations in Mexico or back to the U.S. market.41
While these narco-trafficking trends reflect a growing diversification of transnational criminal organizations, California has experienced a decline in the trafficking of cocaine into the state. Although Mexico-based drug trafficking organizations remain the primary wholesale suppliers of cocaine in the U.S., they have reduced their trafficking efforts in recent years as nationwide usage and demand have declined.45 For example, cocaine seizures decreased by 50 percent in California in the last year, though county-level seizure data shows that cocaine remains a substantial problem in California. Los Angeles County topped the list with over 58 percent of statewide seizure totals.
Figure 11
Task Force Seizures of Cocaine
Counties With Most Seized Cocaine (FY 2012-2013)
1. Los Angeles
1048 lbs.
2. Imperial
457 lbs.
3. Riverside
135 lbs.
4. Fresno
68 lbs.
Statewide Total
1,796 lbs.
Trafficking Humans Is Almost as Profitable as Trafficking Drugs
Transnational criminal organizations and gangs are also finding human trafficking to be a lucrative and growing criminal enterprise. In fact, human trafficking is believed to be one of the most profitable criminal activities, with estimates of profit ranging from $13,000 annually per forced laborer to as much as $100,000 or more annually per sex trafficking victim. According to the latest estimates from the U.S. Department of State, 27 million people are trafficked each year worldwide, with 18,000 to 20,000 victims in the U.S. alone.46 Based on these figures, revenue from human trafficking could be as high as $32 billion per year worldwide and at least $9.5 billion annually in the U.S.47 Transnational criminal organizations are motivated not only by these high profits, but also by a frequently held notion among criminals that human trafficking carries with it a lower risk of detection, allows for the renewable exploitation of their human "commodities," and risks lighter criminal punishment than narcotics trafficking.
Types of Human Trafficking
Sex Trafficking
Sex trafficking is the act of forcing, coercing, or transporting a person for the purpose of a commercial sex act. These crimes are primarily committed against women and children. Sex trafficking can occur in residential brothels, brothels disguised as massage parlors, strip clubs, and via online escort services and street prostitution.
Labor Trafficking
Labor trafficking is the act of forcing a person to work for little or no money. It can include forced labor in underground markets and sweatshops, as well as legitimate businesses such as hotels, factories, restaurants, construction sites, farming, landscaping, nail salons, and traveling sales crews.
Domestic Servitude
A form of labor trafficking, domestic servitude often involves women who are forced to live and work in the homes of employers who confiscate their legal documents and prevent them from leaving. Domestic workers can be U.S. citizens, lawfully-admitted foreign nationals, or undocumented immigrants.
Source: Office of the Attorney General, The State of Human Trafficking in California (2012).
As highlighted in the California Department of Justice's The State of Human Trafficking in California, 2012, California is one of the states most affected by human trafficking, due in part to its proximity to the U.S. southwest border, its robust economy, and a large immigrant population.48 Over the past two years, California's nine regional Human Trafficking Task Forces identified more than 1,300 human trafficking victims, though the actual number of victims statewide is almost certainly significantly larger.49 A majority of these victims, approximately 56 percent, were trafficked for the purpose of sexual exploitation, while 21 percent were destined for forced labor.50 Largely due to increased public and law enforcement awareness of the issue, arrests under two key human trafficking statutes – human trafficking for forced labor (CA Penal Code, §236.1(a)) and sex trafficking of minors (CA Penal Code, §236.1(c)) – have increased exponentially in the past six years, as shown in Figure 12.
Figure 12
Human Trafficking Arrests Under California Law
(2001-2013)
Source: CA State Threat Assessment Center; CA DOJ, California Justice Information Services
Virtually all types of transnational criminal organizations in California participate in human trafficking in one form or another. Asian and Eurasian transnational criminal rings and gangs like the Asian Gangsters and Armenian Power are key facilitators of domestic and international human trafficking in California, particularly sex trafficking. They typically traffic victims of a similar ethnic background, using their cultural knowledge and ties to ethnic communities to their advantage.
California Is a Gateway in the Criminal Firearms Trade
Increasingly, firearms are being trafficked through California to Mexico-based transnational criminal organizations. Growing narcotics-related violence in Mexico since 2006 and the needs of Mexican criminal organizations to control lucrative drug trafficking routes, combined with restrictive firearms laws in Mexico, have led these organizations to source firearms outside of Mexico.52 These organizations, specifically the Sinaloa cartel, Los Zetas, and the Gulf cartel, are the leading weapons traffickers in the U.S. They utilize their existing U.S.-based narcotics trafficking and money laundering infrastructures to facilitate weapons trafficking back to Mexico, with firearms frequently trafficked by the same couriers through the same routes.53
A recent study estimates that 252,000 guns cross the U.S.-Mexico border each year, with fewer than 15 percent seized.54 Although the firearms are not necessarily purchased in California due to California's own robust gun laws, this state is increasingly the gateway through which Mexico-based transnational criminal organizations move weapons obtained in other states via straw buyers to Mexico, making reverse use of existing drug trafficking routes.55 For example, over 20,000 firearms – predominantly handguns – were recovered in California in 2012 alone (Figure 13). These numbers are consistent with seizures in past years. These statistics signal the existence of a vast pool of weapons that could be at risk to enter the global arms trade.
Figure 13
Total Number of Firearms Recovered in California (2012)
Source: CA State Threat Assessment Center (data from U.S. DOJ, Bureau of Alcohol, Tobacco, Firearms and Explosives)
Money Laundering Corrupts California's Economy
Just as California is a key portal for drugs to flow into the U.S. and Canada, it is also at the center of the reverse flow of billions of dollars of illicit bulk cash proceeds generated by transnational criminal organizations and their criminal associates. According to the El Paso Intelligence Center (EPIC), a federal central clearinghouse of data on currency and narcotics seizures, California is one of the top two states in which narco-dollars are seized and to which seized narco-dollars are destined.56 As Figure 14 shows, cash is smuggled from California back to Mexico or points farther south – often through the same trafficking routes through which drugs, humans, or weapons were originally smuggled – or is laundered through any number of fraudulent schemes.57 The flow of this illicit money not only fuels ongoing operations of trans-national criminal organizations, but also supplies them with the means to expand and extend their influence across the globe.58
Figure 14
Bulk Cash Hubs and Routes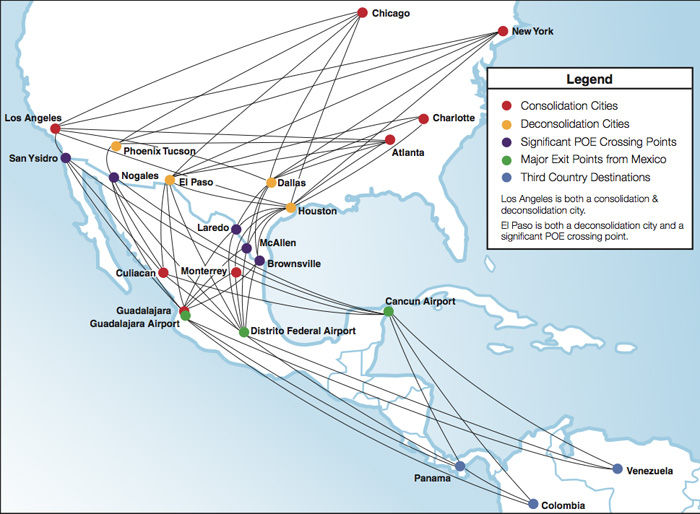 Source: U.S. Department of Homeland Security, U.S.-Mexico Bi-National Crime Proceeds Study (2010)
Money laundering is, by definition, a process designed to mislead law enforcement and mischaracterize the source and origin of the financial proceeds resulting from criminal activities, or "dirty money." The process typically begins by breaking up large amounts of money into smaller, less conspicuous sums, which are then deposited, or "placed," within the financial system. Through "layering," the money launderer then engages in transactions designed to distance the money from its original illicit source. For example, the funds might be wired through a series of shell corporation accounts at various banks around the country, or disguised as payments for non-existent goods or services. Finally, to complete the laundering process, the funds are invested in assets such as real estate or business ventures, and thereby "integrated" into the legitimate economy.59 To avoid detection by law enforcement, transnational criminal organizations frequently change tactics and engineer new schemes. They also outsource certain functions, such as the transportation and laundering of illicit proceeds, to other entities to minimize risk of loss or apprehension.60
Figure 15
Typical Money Laundering Scheme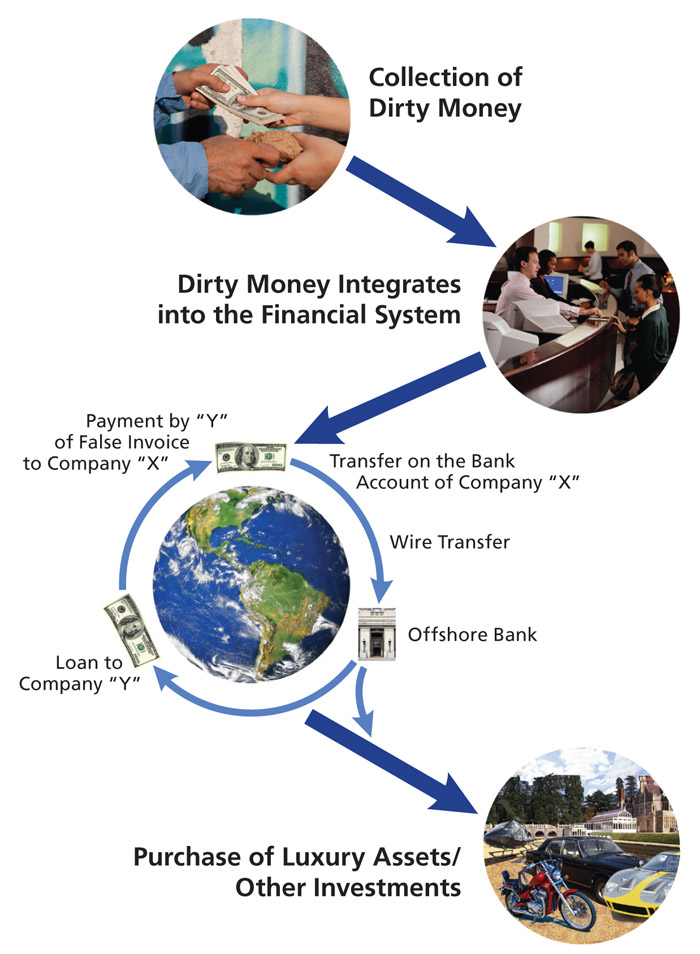 The Race Horses of Los Zetas
In 2012, federal money laundering charges were brought against brothers Miguel Angel Treviño Morales and Oscar Omar Treviño Morales, reputed leaders of Los Zetas, and others. Together with a brother who resided in the U.S., the Treviños used more than 400 American Quarter Horses, along with ranch properties, to launder tens of millions of dollars in Zetas drug proceeds.
Since horse racing is legal, the drug money was cloaked in the guise of legal assets. Moreover, because the highly prized horses could be easily sold, the assets could be converted into cash whenever necessary.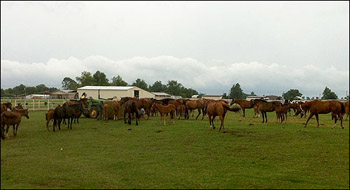 The Quarter Horses also generated legitimate-looking income in the form of horse race winnings during the intervening time period. Various shell companies and fictitious persons were used to further disguise the cartel members' connection to the horses, with business affairs of the horse operation extending into California, New Mexico, Texas, and Oklahoma. So far, at least three people have been convicted and sentenced to prison, including the U.S.-based brother, Jose Treviño Morales. The defendants have also been ordered to forfeit property worth $60 million, which represents the amount of money traceable to their laundering activities.
Source: U.S. v. Miguel Angel Treviño Morales, (W.D. Tex. Dec. 4, 2012), Case No. A-12-CR-210SS; U.S. Attorney's Office, Western District of Texas, Federal Prison Terms Handed Down in Multi-Million Dollar Money Laundering Conspiracy Involving Los Zetas Drug Trafficking Proceeds, Extortion and Bribery (Sept. 5, 2013); U.S. DOJ, Federal Bureau of Investigation.
Both federal and California law target money laundering by criminal enterprises. Some provisions prohibit financial transactions involving funds associated with illegal activities.61 Other provisions criminalize the mere possession or transportation of illicit drug proceeds.62 Both federal and state law also impose reporting requirements on financial institutions with respect to large transactions. For example, federal law requires financial institutions to report to financial regulators all currency transactions over $10,000, as well as multiple currency transactions that aggregate to be more than $10,000 in a single day.63 And both federal and state law make it a crime to break up or "structure" financial transactions into amounts smaller than $10,000 for the purpose of avoiding federal mandatory reporting requirements.64
Yet, in addressing "structuring," there is an important difference in the legal tools that federal and state prosecutors can bring to bear. Whereas federal law does not require that the structured transactions be intended to hide the fact that money came from criminal activities or facilitates criminal activities,65 California law requires that state prosecutors prove a money launderer intentionally structured a financial transaction to disguise that the proceeds were derived from a criminal activity or, alternatively, were structured to promote or further criminal activity.66 That additional requirement imposes a special burden on California prosecutors, often obstructing successful prosecution. As discussed in this Report's Recommendations (Chapter Six), California law should be amended to remove this special burden.
Scope of the Money Laundering Problem in California
The true scope of the money laundering problem in California is unknown. However, some experts estimate that approximately 1.5 to 2 percent of gross domestic product ("GDP")67 is laundered annually.68 Based on California's $2 trillion GDP in 2012,69 approximately $30-40 billion could have been laundered in the state in 2012.
Uncertainty also plagues estimates of the amount of illicit cash proceeds smuggled from the U.S. to Mexico every year. Estimates range from $18 billion to as much as $39 billion.70 For its part, California leads the nation in the number of seizures of currency, commonly referred to by law enforcement as "bulk cash."71 The seizures of bulk cash increased by 40% in 2011 and remained relatively consistent in 2012 (Figure 16), possibly reflecting law enforcement's success in better detecting currency flowing over the border.
In 2010 and 2012, Mexico enacted a number of anti-money laundering provisions to combat the flow of illicit cash from the United States into Mexico by limiting foreign currency cash transactions. As a result of Mexico's enhanced efforts to combat money laundering, drug trafficking proceeds are now reportedly returning to the United States through ports of entry along the Mexican border, from San Ysidro to Calexico.72
Figure 16
Bulk Cash Seizures in California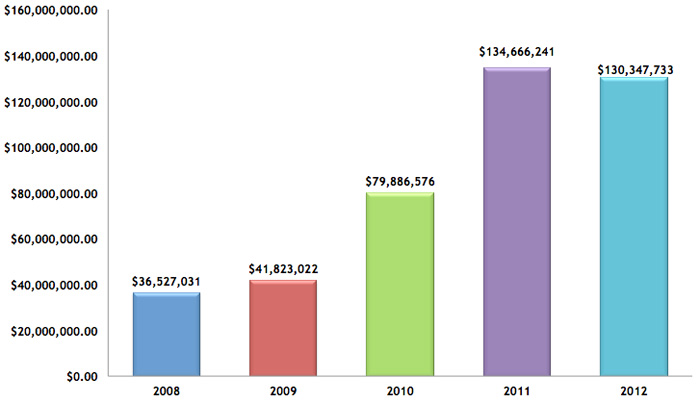 Source: CA State Threat Assessment Center (data from EPIC)
Federal sources and California financial crime investigators along the border have noted a substantial increase in cash imports from Mexico at certain points of entry in Southern California.73 Individuals, claiming to be employees of money service businesses in Mexico (commonly referred to as casas de cambio), with substantial amounts of bulk cash in duffle bags and backpacks have been witnessed crossing into California from Mexico. After declaring the amount of cash the individual is bringing into California to Customs and Treasury officials, the individual goes directly to nearby financial institutions, kiosks, or ATMs to deposit the imported bulk cash.74 These trends underscore the need for better cooperation among financial regulators and law enforce- ment from the federal government, California, other states, and Mexico. This Report's Recommendations urge these officials to develop protocols to more effectively share information and intelligence that could be used to disrupt illicit cross-border financial flows. The Recommendations also emphasize the need to leverage existing partnerships for cooperation, such as the Southwest Border Anti-Money Laundering Alliance. The Attorneys General of California, Arizona, New Mexico, and Texas established the Alliance in 2010 to enhance and better coordinate investigations and intelligence sharing related to money laundering in the U.S.-Mexico border region.75
Asset Forfeiture: A Critical Weapon to Fight Money Laundering
The seizure of laundered money is essential to disrupting and dismantling transnational criminal operations. Currently, two provisions in California law enable state authorities to seize laundered money:
Criminal Asset Forfeiture Provision:

Money, monetary instruments, and property derived from criminal profiteering are subject to forfeiture under the California Control of Profits of Organized Crime Act. (Penal Code, §§ 186–186.8.)

Civil Narcotics-Related Asset Forfeiture Provision:

Money or other things of value (including real property) used to procure controlled substances or to facilitate specified narcotics offenses are subject to civil asset forfeiture. (Health & Safety Code, § 11470.)
Significantly, both of these provisions permit the seizure of criminal proceeds and assets only after the commencement of formal legal proceedings, such as the filing of a criminal complaint or indictment. This loophole allows transnational criminal organizations to safely remove assets that have been discovered by law enforcement, so long as formal legal proceedings have not yet begun. As discussed further in this Report's Recommendations (Chapter Six), this loophole must be closed. New legislation should amend California law to permit law enforcement to temporarily freeze an organization's illicit proceeds or property even if no formal prosecution has commenced yet.
Conclusion
California has emerged as the epicenter of transnational criminal organization activity in the United States. This is due, in part, to a crackdown by the Mexican government on drug cartels and the resulting fragmentation of the trafficking market, with Sinaloa emerging as the dominant Mexico-based drug trafficking organization operating in California. Sinaloa has fueled methamphetamine and marijuana smuggling from Mexico, but domestic cultivation and production of both drugs in California has increased as well. Transnational criminal organizations are also facilitating weapons and human trafficking into and around California and are corrupting regional marketplaces and financial institutions through their multi-billion dollar money laundering practices.