Chapter Three

Transnational Criminal Organizations and California Gangs: A Growing Threat to Public Safety
The presence of transnational criminal organizations in California exacts a heavy price on the state. Transnational criminal organizations contribute significantly to violence and criminal activity here, much of it drug- or gang-related. The partnering between Mexico-based drug trafficking organizations and California's street and prison gangs has spread those problems throughout the state. Due in part to their coordination with Mexican trafficking organizations, street and prison gangs now account for an average of 48 percent of violent crime in many jurisdictions around the country and up to 90 percent in high trafficking regions along the U.S.-Mexico border, such as Arizona, California, and Texas.76 With gang membership up 40 percent nationally between 2009 and 2011, California is at risk for violent crime, particularly assault, extortion, home invasion robberies, homicide, intimidation, shootings, and other violence associated with transnational criminal activity, as well as an increase in arrests for human trafficking offenses and significant seizures of drugs, weapons, and cash.77 Even Mexico's efforts to crack down on drug trafficking below the border have further fragmented drug trafficking organizations and spurred an increase in narcotics-related violence, some of which has spilled over into California.
This drug trafficking and increased gang activity, as well as the violence such activity breeds, pose a serious public safety threat to Californians, particularly our youth. One Center for Disease Control and Prevention study found that 61 percent of 15- to 24-year-olds murdered in the City of Los Angeles between 2003 and 2008 were victims of gang violence.78 In the City of Long Beach, the rate was almost 70 percent.79 Moreover, a 2006 report from the California Department of Alcohol & Drug Programs found that the percentage of Californians using illicit drugs was 18 percent above the national average. More people died from drug abuse in California that year (4,290) than from any other preventable cause that year, including motor vehicle accidents (3,293) and firearms (3,094).80 With about 40,000 drug-related emergency room visits every year, and an estimated $22.1 billion economic impact (when factoring in lost productivity, health care costs, prevention and treatment costs, criminal justice costs, and losses due to crime), illicit drug use poses a significant threat to California and its people.81 The problem is of particular concern to California communities already facing significant challenges from poverty, homelessness, domestic gang activity, and high crime rates.82
California Faces a Unique Threat of Spillover Violence from Mexico
Some reports suggest that the crackdown on large drug cartels in Mexico has sparked a rash of violence between cartels and the government and between rival cartelitos. Some of the violence has spilled over into border states like California. Out of this has emerged "a new generation of criminals, younger and more willing to break with the discipline maintained by traditional structures."83 According to data released by the administration of former Mexican President Felipe Calderón, there were more than 47,500 organized crime-related homicides between December 2006 and September 2011, with a particular spike in violent crime in Juárez and Tijuana.84 Other estimates place the number of homicides during the Calderón administration at closer to 65,000, or roughly 10,000 per year.85 This violence has also spilled over the border, with conflicts between Mexican drug trafficking organizations resulting in homicides and kidnappings in California, Texas, and Arizona. Some analysts fear that the recent arrest of Sinaloa front man, Joaquín "El Chapo" Guzmán Loera, will destabilize the power structure and lead to increased violence in the Tijuana Corridor and beyond.
Spillover Violence in California:
The Los Palillos Transnational Criminal Organization
Fragmentation and intra-organization violence spawned cross-border formation of a new transnational criminal organization and violence in the San Diego border region. In 2002, Victor Rojas was a lieutenant in the Arellano-Félix Organization and was in charge of an enforcement cell that extorted, robbed, murdered and kidnapped people in Tijuana as part of the drug cartel operations. Victor's younger brother, Jorge, became a valuable and trusted member of the enforcement cell.
After his brother was killed by members of his own organization, Jorge Rojas fled Mexico to San Diego, where he re-established ties with associates with whom he had worked in the enforcement cell. Rojas became the leader of a new U.S.-based transnational criminal organization, Los Palillos, a rogue crew of drug traffickers, kidnappers, and murderers. Los Palillos were motivated by revenge and greed, and targeted victims who were believed to be linked to the Arellano-Félix Organization and to have large amounts of cash or drugs. Los Palillos' murders were particularly gruesome – multiple bodies shot, beaten and stuffed into SUVs and trunks of cars, and others dissolved in 55-gallon barrels filled with muriatic acid and caustic soda.
The San Diego District Attorney has charged defendant Jorge Rojas, leader of Los Palillos, with nine murders with special circumstances, making him eligible for the death sentence. Fourteen other alleged Los Palillos defendants are charged with at least one murder with special circumstances, also making them eligible for the death penalty. Three other defendants have pled out or were convicted at trial and sentenced to life without possibility of parole. On January 16, 2014, Rojas was convicted on four of the murder counts, while another member of Los Palillos, Juan Estrada-Gonzalez, was convicted on six counts of murder. The jury also found true special circumstance allegations in both cases, making Rojas and Estrada-Gonzalez eligible for the death penalty.
Source: People v. Rojas, et al., (San Diego County Superior Court), Case No. SCD208824 - Information sourced from People's Trial Brief, Group A.
In February 2011, dozens of agents from the California Department of Justice arrested three defendants in Palmdale, California, in connection with a murder-for-hire plot. The defendants, Jorge Ernesto Sillas Rocha, Victor Manuel Magana Gonzalez, and Daniel Cepallo, were hired to assassinate five family members in California in retaliation for a trafficking-related financial debt owed to the Arellano-Félix Organization ("AFO"). The hit men were hired by Juan Francisco Sillas Rocha, a high-ranking AFO lieutenant apprehended by Mexican federal authorities in Tijuana in late 2011. In late 2013, the San Diego District Attorney's Office, which prosecuted this case, obtained convictions and sentences of incarceration for all three defendants (Sillas – 21 years; Magana – 15 years; and Cepallo – 5 years).86
In July 2010, Mexican authorities arrested two members of the Barrio Azteca gang, an El Paso-based street gang. They were accused of killing a U.S. consulate employee and her husband across the border in Juarez, Mexico, on behalf of the Juarez Cartel. 52 other gang members were also arrested in connection with the murders.87 On this side of the border, a U.S. border agent was shot and killed by traffickers in a Sinaloa-controlled drug corridor near Nogales, Arizona in December 2010.88
California Is Threatened by the Alliance of Transnational Criminal Organizations with Prison and Street Gangs
In recent years, law enforcement officials in California have witnessed a disturbing new trend: increasing partnerships between transnational criminal organizations (particularly Mexico-based drug trafficking organizations) and prison gangs, like the Mexican Mafia, and Sureño street gangs. These alliances offer significant benefits to both parties. For the cartels, a partnership with a local gang in California allows them to:
Coordinate the distribution of illicit goods in California without having to set foot on U.S. soil (and thus without placing themselves within the jurisdiction of U.S. law enforcement).
Use gangs to collect drug proceeds, act as enforcers, launder money, smuggle weapons, commit kidnappings, and identify and scout possible undeveloped profit-generating criminal ventures.
Use gang members who are U.S. citizens to cross the border with less law enforcement scrutiny.
Take advantage of street gangs' detailed knowledge of their respective areas, connections to networks for the distribution and retail sale of illegal drugs, existing transportation routes (in the case of outlaw motorcycle gangs), familiarity with law enforcement tactics, and ability to respond quickly and effectively to changing local conditions.89
Establish redundancies or alternative partnerships designed to minimize disruptions to operations resulting from law enforcement actions.
In exchange for their assistance, prison and street gangs are given a share of the drug proceeds and are allowed to bypass mid-level wholesale dealers and receive discounts of up to 50 percent on bulk drug purchases.
The Mexican Mafia: A Threat Inside and Outside of Prison
The Mexican Mafia (also known as "La Eme") is a prison gang founded in the 1950s to protect incarcerated Hispanic street gang members. By use of violence, the Mexican Mafia eventually gained power and control over illicit activities in the California prison system and currently controls much of the distribution of drugs in state prisons, county jails, and even in some federal prisons in California. As members were released from prison, they extended their influence outside of prison to control drug distribution, provide protection for affiliates, secure trafficking routes, and tax local dealers.
La Eme's current affiliates include:
MS-13, whose name is actually a reference to "La Eme," the 13th letter in the alphabet.
Sinaloa and La Familia Michoacána cartels.
Southern California Sureño gangs, including Westside and Diablos of Escondido (San Diego County); Florencia 13 (F-13) gang (Los Angeles County), under the supervision of Arturo Castellanos, a Mexico Mafia member and the leader of F-13, who is serving a life term in Pelican Bay State Prison; 38th Street gang (Southeast Los Angeles); and Logan Heights, Del Sol, Lomita Village 70's, Shelltown, Southeast Locos, and Old Town National City gangs.
The Mexican Mafia's chief rival is La Nuestra Familia/Nuestra Raza – a prison gang with approximately 2,000 members in California prisons that exerts control over Northern California Hispanic ("Norteño") street gangs. However, Nuestra Familia has been significantly weakened by a number of recent law enforcement operations.
Sources: Indictment, U.S. v. Rodriguez-Landa (C.D. Cal. 2013), Case No. CR-13-0484; Indictment, U.S. v. Laredo, et al. (C.D. Cal. 2013), Case No. CR-13-0537.
Although transnational criminal organizations typically prefer to partner with gangs of the same ethnicity, they have consistently demonstrated that profits come above all else. Thus, they will sometimes partner with the criminal organizations that best achieve their goals regardless of their initial racial or ethnic preferences. Examples of ethnically-similar and dissimilar unions include:
Sinaloa works with the Mexican Mafia, Sureños gangs, and transnational gangs like MS-13.90

Sureños

Sureño street gangs are Hispanic gangs that have traditionally been active in Southern California. On the streets, each gang (or "clique") maintains its own identity and is organizationally separate from other Sureños gangs. However, they are interconnected through their common loyalty to the Mexican Mafia on the streets and in prison. In recent years, Sureño gang activity has expanded into northern California and other western states, often sparking violent conflicts with existing gangs.

Source: National Gang Intelligence Center, National Gang Threat Assessment: Emerging Trends (2011), p. 12.

La Familia Michocána has ties to numerous types of gangs with diverse ethnic backgrounds: criminal street gangs (Bloods, Crips, Avenues, Norteños, and Sureños), prison gangs (Aryan Brotherhood, the Mexican Mafia, and La Nuestra Familia), and traditionally-white motorcycle gangs like the Hells Angels and Outlaw Motorcycle Gangs.
Aryan Brotherhood is affiliated with the Mexican Mafia and Arellano-Félix Organization in drug, weapons, and stolen vehicle trafficking.91
MS-13 and other transnational gangs have become central players in narcotics and human trafficking in California, partnering with Mexico-based transnational criminal organizations and Sureños gangs to facilitate cross-border smuggling of people and drugs, sell drugs on the retail market, perform contract killings, and launder the proceeds through seemingly legitimate local businesses.92
Tiny Rascal Gang, which was originally a gang of Cambodian juveniles, has grown to include Filipinos, Latinos, and African Americans. Their allies include Asian groups, such as Wah Ching, which originated in San Francisco in the early 1960s and is now one of the largest and most ruthless Chinese transnational criminal organizations operating in the U.S.93
Asian transnational criminal organizations from Southeast Asian counties like Vietnam and Malaysia have ties to Asian street gangs operating in Santa Clara County, like the Asian Boyz, Asian Warriors, and Asian Gangsters.
Case Study: La Familia Michoacána and the Mexican Mafia
Figure 17
"The Project"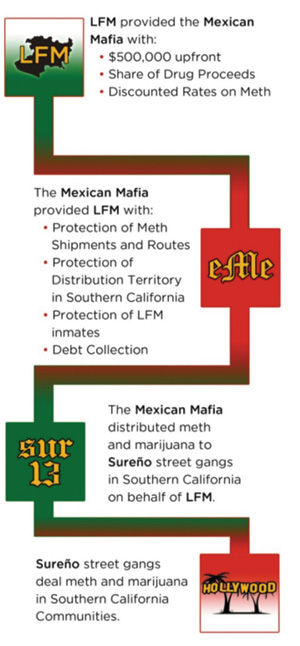 One of the most significant unions in recent years between a Mexico-based transnational criminal organization and a prison/street gang was the 2011 alliance between La Familia Michoacana ("LFM") and the Mexican Mafia. As outlined in the July 2013 indictment in U.S. v. Rodriguez-Landa (C.D. Cal. 2013), representatives of the Mexican Mafia entered into an agreement in April 2011 with LFM – historically one of the most significant Mexico-based methamphetamine trafficking organizations – to help LFM become a dominant distributor and seller of methamphetamine and marijuana in Southern California. Under the agreement, dubbed "The Project," the Mexican Mafia would protect LFM's drug shipments and sales, prevent other criminal gangs from taxing LFM's drug shipments and sales, collect drug debts owed to LFM, and provide protection to incarcerated LFM members in prison and jail. In exchange, LFM provided approximately $500,000 to Mexican Mafia leaders upfront, with a share in drug proceeds going forward and discounted rates on methamphetamine for Mexican Mafia members and associates.
"The Canadian Connection"
Santa Clara County law enforcement officials broke up a unique criminal alliance in March 2009 when they arrested 14 people and seized 200 kilograms of cocaine being distributed through a joint partnership between La Familia Michoacana and a Vietnamese organization based out of Vancouver, British Columbia. In addition to trading pseudoephedrine (a precursor to methamphetamine) for cocaine, and swapping strains of marijuana, the organizations co-invested in shipments of narcotics throughout the U.S.
Source: Interview with a Deputy District Attorney in the Santa Clara County District Attorney's Office (Oct. 23, 2013).
The Criminal Alliances Have Sparked a Rash of Violence
The deepening associations between Mexican drug trafficking organizations and gangs in California have, in turn, increased the potential for harm to California. Based on the best numbers currently available, there were approximately 4,897 gangs and 186,119 gang members in California in August 2013, making California one of the most gang-dense states in the country.94 In particular, in 2011, two California counties, Los Angeles and San Bernardino, ranked first and third in the country in terms of the ratio of gang members to population (Figure 18).95
The rise of Mexico-based drug cartels at a time when gang involvement is at record highs jeopardizes an otherwise encouraging trend in the reduction of crime in recent years. While the state's homicide rate has reached its lowest level since 1966, nearly 30 percent of all killings committed in California from 2009 through 2012 – 1,911 homicides – were gang-related. For example, the City of San Jose reported a 300 percent increase in gang-related homicides between 2010 and 2011. Similarly, the City of Modesto reported a 213 percent increase in gang-related aggravated assaults between 2011 and August 2012, with corresponding increases in the number of both juvenile perpetrators and victims. Some California jurisdictions have reported that "gangs are responsible for at least 90 percent of [violent] crime."96
Figure 18
Gangs and Gang Members In California
Identified by Law Enforcement Agencies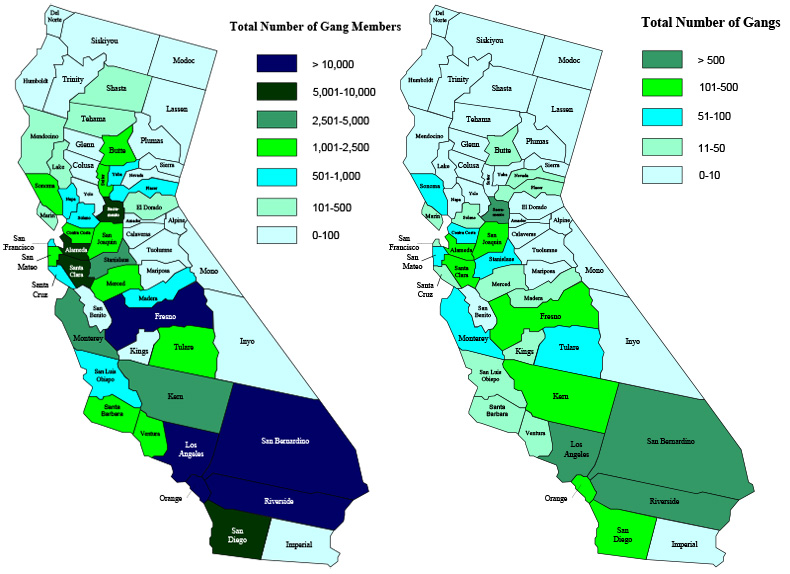 Source: CalGang
This is due in part to territorial battles as transnational criminal organizations and gangs expand their operations into new territories. For example, in order to expand their field of influence into Northern California, Mexican drug cartels sometimes rely on established connections with Sureño gangs based out of Southern California. However, the historic antipathy between Sureños and Norteños creates friction when Sureño gang members move into regions controlled by Norteños. This dynamic is seen in places like San Jose where, in January 2011, gang members working for a Mexican drug trafficking organization stormed a nightclub in an attempt to kidnap the owner over a drug debt.97 A shootout ensued between rival gang affiliates, and three people were killed. Instances of such violence demonstrate the impact of transnational criminal organizations and gangs competing to expand the geographic scope of their drug distribution networks.
Conclusion
Transnational criminal organization activity poses a significant public safety threat in California. In particular, clashes between Mexican drug trafficking organizations over control of profitable trafficking routes have led to increasing violence in Mexico, in California, and along the southwestern U.S. border. Transnational criminal organization reliance on street and prison gangs for protection and distribution of illicit goods has reenergized existing and dormant gang rivalries, leading to increased gang casualties in an era of otherwise declining criminal activity.