Chapter 4

New Challenges Facing Law Enforcement in Combatting Drug Trafficking
The increased presence of transnational criminal organizations in California has created new challenges for law enforcement. As discussed above, the relatively new alliances between transnational criminal organizations and California prison and street gangs give transnational criminal organizations both greater organizational stability and access to more territory. New forms of digital communications technology, such as smartphones, the Internet, and social media, have made it easier for criminal networks to coordinate their activities without detection and even to track their targets. Moreover, the process of globalization has outpaced the growth of global governance, creating massive opportunities for criminal organizations to grow their business. Finally, new trafficking strategies, including maritime smuggling, and the use of cross-border tunnels and ultra-light aircraft, pose new threats to law enforcement.
Social Media
Transnational criminal organizations and gangs are increasingly using social media resources for propaganda, intimidation, recruitment, and communication. According to the National Gang Intelligence Center, Mexican cartels have posted hundreds of videos on social media depicting interrogations or executions of their rivals and countless video montages of luxury vehicles, weapons, and money set to songs that glorify the drug trafficking lifestyle.
The video shown below was uploaded to YouTube by a suspected cartel associate and depicts a panga carrying significant amounts of drugs and at least two people as the boat speeds through open waters.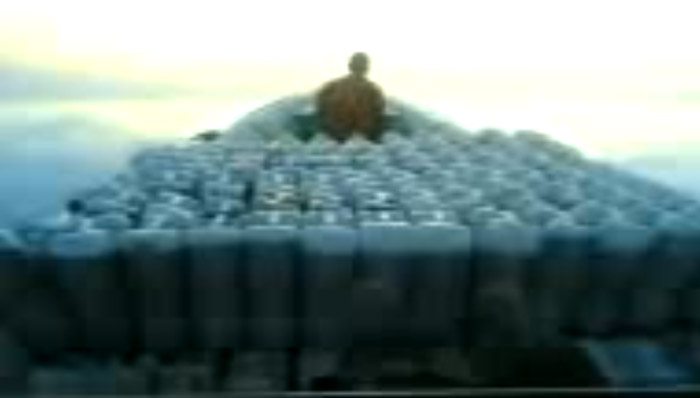 Source: National Gang Intelligence Center, National Gang Threat Assessment: Emerging Trends (2011), p. 41.
Despite these and other challenges, including massive budget cuts, law enforcement has made some important inroads against transnational criminal activity in California.
New Technologies Facilitate Gang Activities
Not surprisingly, transnational criminal organizations and gangs have embraced mobile communications technologies, such as the Internet and cell phones, not just to recruit new members and expand their social networks, but also to build and operate criminal networks without the geographic proximity once needed for communication.
Even in California's prisons, inmates are increasingly using cell phones to coordinate criminal activities and to intimidate or harass other gang members or innocent people outside prison walls. In 2007, 1,400 illegal communications devices were confiscated from prisoners. By 2011, the number of seizures had eclipsed 15,000, a 10-fold increase.98 In 2010, there were 200 incidents directly traced back by the California Department of Corrections and Rehabilitation ("CDCR") Investigative Services Unit to inmates using cell phones to conduct criminal activities from inside CDCR institutions. In 2011, CDCR's Office of Victim and Survivor Rights and Services recorded 119 contacts made by CDCR inmates using cell phones to continue victimizing people from inside CDCR institutions.
To address this problem, CDCR implemented an 11-day pilot program in 2011 at two state prisons in Solano and Vacaville aimed at curbing the unauthorized use of cell phones. Using "managed access" technology to block or "jam" signals to unauthorized devices, officials were able to detect 2,593 illicit wireless devices in the prisons and 24,190 unauthorized communication attempts. "In one day on one yard in one institution, the system prevented 400 unauthorized devices and blocked 4,000 unauthorized communication attempts from those devices," resulting in a 64 percent increase in the use of authorized payphones. 99
Building off the success of this pilot program, CDCR contracted with Global Tel*Link – a prison telephone company – to develop and implement a three-stage plan to install managed access systems in 34 prisons across the state by June 1, 2015. Phase 0 of this plan was completed on October 31, 2012, with jamming technology installed at Avenal State Prison. In Phase I of the plan, 17 additional adult facilities were retrofitted, with Phase II calling for installations in 16 more adult facilities by June 1, 2015.
The use and adoption of communications technology to engage in transnational criminal activity has continued to expand beyond just the use of cell phones. Drug wholesalers can now sell illegal drugs and prescription pills over the Internet and track their shipments online, alerting the intended recipients of these illegal drugs to a possible interception.100 Some particularly sophisticated networks even use specialized hackers to encrypt and protect their communications from law enforcement.101 Traffickers also take advantage of e-commerce and Internet banking to move money and pay suppliers and operatives without the risks associated with physical transfers of money. And human smugglers similarly make extensive use of e-mail, disposable cell phones, and encryption systems, while sex traffickers make sickening use of the Internet to "display the wares in the cyberspace equivalent of slave auctions."102
Even as communications technology has developed, some transnational criminal organizations and gangs, particularly prison gangs, have continued to use more traditional means to convey messages to their operatives. In one example, a member of the Mexican Mafia imprisoned in Pelican Bay State Prison issued a "kite," a small piece of paper containing instructions to Florencia-13, a Sureño street gang in Los Angeles (Figure 19).103 The letter outlined rules concerning: (1) governance structure; (2) drug and prostitution schemes; (3) dispute resolution systems; (4) rules for contract killings; and (5) methods for identifying and punishing informants.104
Figure 19
"Kite" Issued by Imprisoned Mexican Mafia Leader
Source: U.S. Attorney's Office, Central District of California (2013)
Increased Global Trade Has Made It Harder to Detect Illicit Trafficking
The past quarter century has witnessed unprecedented growth in global trade, finance, travel, and communication.105 But the process of globalization has outpaced the growth of global governance, creating massive opportunities for criminal organizations to make their business prosper.106 People and goods can move between countries more cheaply and efficiently than ever before, making it harder to distinguish between licit and illicit transfers.107
Taking advantage of these developments, transnational criminal organizations have "diversified, gone global and reached macro-economic proportions," with illicit goods frequently sourced from one continent, trafficked through another, and sold on a third.108 In this way, the criminal underworld has become inextricably tied to the global economy, with transnational criminal organizations using trade, banking, and communications networks (whether shipping routes, financial centers, or the Internet) to traffic growing quantities of contraband.109
Figure 20
Growth in International Trade (1948-2008)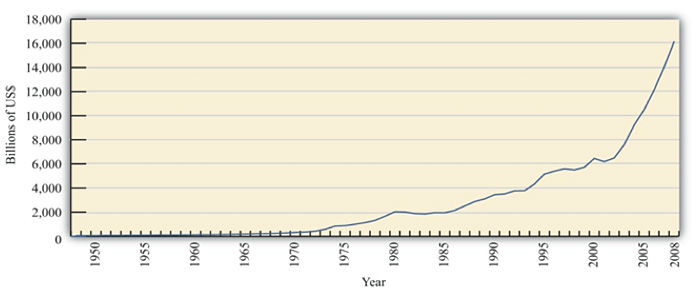 Source: Prof. Steve Suranovic, International Trade: Theory and Policy (2010)
Transnational criminal organizations engaged in drug, human, and firearm trafficking have responded to globalization and increased international trade by adapting their strategies and methods to exploit the heavy cross-border flows of goods and people.110 Moreover, faced with enhanced border security regimens resulting from the terrorist attacks of September 11, 2001, they have modified traditional forms of concealment and developed new methods to evade detection at the California-Mexico border.111 This increasing level of operational awareness and sophistication presents a unique challenge for local, state, and federal law enforcement personnel in California.
Transnational Criminal Organizations Mask Trafficking at Traditional Ports of Entry
Historically, the vast majority of all narcotics, weapons, and human smuggling by transnational criminal organizations has been done over land, where transnational organizations can exploit the high vehicle and pedestrian traffic at border crossings. As a result, the most popular smuggling methods of Mexico-based criminal organizations to traffic smaller quantities of narcotics into California have been pedestrian couriers and privately-owned vehicles, particularly those with hidden compartments in the engine, car frame, gas tank, trunk, tires, and seats.
For larger shipments, Mexico-based drug trafficking organizations have frequently used commercial vehicles to move narcotics, weapons, and humans across the U.S. border. By hiding drugs, weapons, or persons within otherwise legitimate freight transported by commercial trucks, these traffickers have exploited opportunities arising from the growth of legitimate international trade.
In U.S. v. Molinero (C.D. Cal. 2013), a Mexico-based drug trafficking organization smuggled over a period of two years over 36 kilograms of heroin, over 30 kilograms of cocaine, and more than 2,400 pounds of methamphetamine inside PVC pipes. These pipes were further concealed in tractor trailer axles on commercial trucks driven across the border in Arizona and routed to Los Angeles for distribution.
Similarly, in U.S. v. Mendoza-Haro (D. Colo. 2012), prosecutors alleged that Mexico-based traffickers transported methamphetamine and bulk cash between Colorado and California, in some instances hiding drugs in loads of milk and, in at least one instance, strapping cash to the body of a minor as he was driven from Colorado to California.
Although these smuggling methods remain popular, they are highly vulnerable to interdiction. Consequently, Mexican drug trafficking organizations have more recently begun to utilize a number of strategies to reduce the risks of detection and seizure:
Lookouts, commonly known as halcones, are frequently used to monitor border crossings, recognize vulnerabilities of ports of entry, and detect periods of decreased law enforcement presence.
Illegal drugs are sometimes transported in convoys, with lead cars intended to be inspected by border agents, thereby decreasing the chances that subsequent loads will be seized.
Recently, cartels have begun to smuggle methamphetamine, cocaine, and heroin into the U.S. in liquid form. The narcotics are dissolved into liquid in Mexico, smuggled across the border, and then converted back to powder or crystalline form for distribution. Trafficking via this method can retain up to 90 percent purity or better, depending upon the capabilities of the conversion lab.
Transnational Criminal Organizations Are Finding Alternatives to Ports of Entry
While land-based trafficking through ports of entry remains the most common trafficking strategy, transnational criminal organizations are increasingly shifting resources to maritime and air trafficking.112 These trafficking methods include the use of panga boats and ultra-light aircraft, as well as cross-border tunnels, all of which have proven challenging for law enforcement to monitor or intercept.
Pangas
Transnational criminal organizations are increasingly exploiting California's extensive coastline and beaches to smuggle narcotics and people into the state. Pangas, also known as lanchas, are the primary maritime trafficking threat to California. These low profile fishing vessels – between 20 and 38 feet in length – are fast (over 40 knots), effective, and economical. Most importantly, due to their fiberglass construction and low profile, pangas are extremely difficult to detect by radar or night vision. This, coupled with the sheer size of California's coastline, means that most panga discoveries are made either through tips or by happenstance.
Figure 21
"Super Panga" Boat Found in Santa Barbara County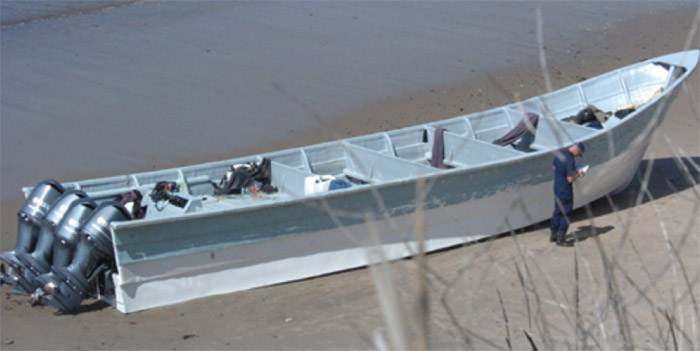 Source: Santa Barbara County Sheriff's Office (2013)
Typically, pangas are launched from coastal communities in Baja California, such as Rosarito Beach, with few crew members. The vessels then sail north, often to a staging area well within international waters, before moving at high speeds into California to offload their illicit cargo.113 The Sinaloa cartel is the primary Mexican cartel conducting panga smuggling operations along California's coast. In recent months, U.S. Coast Guard crews and local officials have interdicted suspected Sinaloa-affiliated "super panga" vessels capable of carrying several thousand pounds of drugs. The super panga above was designed to carry as much as 10-12 tons of marijuana (Figure 21).
The increasing reliance on panga-based maritime smuggling by Mexico-based drug trafficking organizations is evidenced by seizure activity over the past several years. Panga boat interceptions doubled between 2009-2010 and 2010-2011, while panga drug seizures have increased significantly in recent years, with seizures of marijuana from pangas ballooning from 3,800 pounds in 2008 to 120,000 pounds in 2012.114
Figure 22
Panga Boat Smuggling Routes (2010-2013)
Source: CA State Threat Assessment Center
These statistics correspond with a period of decreasing marijuana seizures at land border crossings, suggesting a shift in the strategy of Mexican drug rings toward exploiting the vastness of the sea in order to smuggle drugs into the state.115
The majority of panga incidents before 2010 were confined to the Southern California coastline between San Diego and Los Angeles. However, there are now indications of panga operations that head further north along the coast beyond Ventura, Santa Barbara, and San Luis Obispo Counties, with landings reported as far north as Santa Cruz and Monterrey Counties (Figure 22).116
Regional Threat: Panga Boats in Santa Barbara County

On September 13, 2013, local, state, and federal law enforcement officials witnessed a group of 19 individuals offloading suspected bales of narcotics from a panga boat that came ashore in Goleta. Officers arrested 14 people and seized more than 2,000 pounds of marijuana as a result of the interdiction.

Figure 23

Seized Panga Boat in Santa Barbara County

Source: Santa Barbara County Sherriff's Office

Figure 24

Illegal Drugs Seized From Panga Boat

Source: Santa Barbara County Sherriff's Office
Pangas Pose New Dangers for Law Enforcement Officials
The use of pangas by Mexico-based drug trafficking organizations presents new threats to agents trying to prevent the flow of illicit goods into California. Interdiction efforts by the U.S. Coast Guard or local law enforcement officials have led to high-speed chases, with smugglers trying to dispose of their illegal cargo before being detained. In one tragic incident in December 2012, a Coast Guard Chief Petty Officer was killed off the coast of Santa Barbara when a Sinaloa-affiliated panga intentionally rammed an inflatable Coast Guard boat.126 In another incident in October 2013, captured in the video below, the Coast Guard apprehended a panga boat carrying 31 bales of marijuana (with a street value between $2 million and $3 million) after an extended high-speed chase off the shore of San Diego.127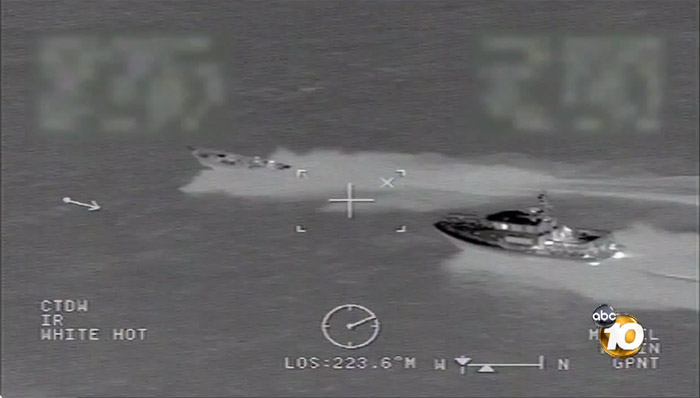 Cross-Border Tunnels
In contrast to cheap, often one-use pangas, cross-border tunnels are a significant investment for Mexico-based drug trafficking organizations. These organizations are increasingly exploiting specific areas underneath the California-Mexico border at places such as San Ysidro, Otay Mesa, and Calexico, due in part to limited law enforcement resources to counteract the subterranean threat.128 Cross-border tunnels primarily facilitate multi-ton shipments of narcotics from Mexico to the U.S., but are also used for smuggling people. According to the U.S. Department of Homeland Security, approximately 169,000 pounds of narcotics, valued in excess of $200 million, have been seized from cross-border tunnels since 1990.129 The Sinaloa cartel is the main Mexico-based transnational criminal organization suspected of constructing cross-border tunnels. Indeed, the vast majority of cross-border tunnels are discovered in California and Arizona, sites for Sinaloa-controlled territories.130
Cross-border tunnels range in sophistication from the rudimentary to highly sophisticated.131 Sophisticated tunnels are extremely well-constructed and can stretch for more than 2,000 feet, using a system of ventilation, lighting, and rail.132
Since the 1990s, more than 161 cross-border tunnels have been discovered, with more than 75 detected since 2006.133 According to DHS, cross-border tunneling activity has increased 80 percent since 2008, with California leading the nation in the number of sophisticated tunnels discovered.134
Tijuana-San Diego Cross-Border Tunnel
On October 30, 2013, officers from the San Diego Tunnel Task Force shut down a "super tunnel," with suspected links to the Sinaloa cartel, that spanned one-third of a mile between an industrial area of Tijuana and a warehouse just west of San Diego's Otay Mesa port of entry. The tunnel, one of more than 75 cross-border tunnels discovered by law enforcement over the last seven years, was 35 feet underground and equipped with lighting, ventilation, and an electric rail system. Officials also seized 17,000 pounds of marijuana and about 325 pounds of cocaine, with a combined street value of $12 million – marking the first time that authorities had seized cocaine in connection with a tunnel. Three Sinaloa associates were booked on federal drug charges, and officials made clear that the tunnel was shut down before it became fully operational.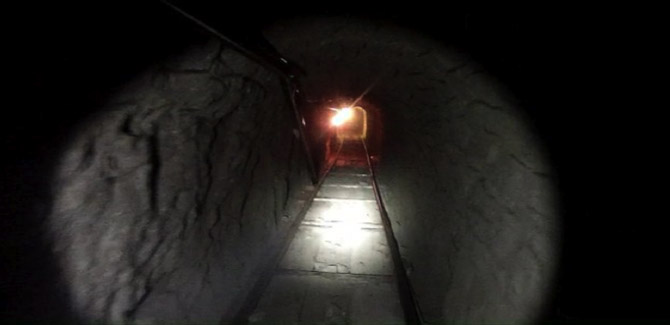 Source: U.S. Department of Homeland Security, U.S. Immigration and Customs Enforcement.
Ultra-Light Aircraft
Ultra-light aircraft are single-pilot, three-wheeled platforms that use hang-gliders and single-propeller engines to fly in excess of 70 miles per hour. They are inexpensive and can exploit the vast airspace along rural stretches of the California-Mexico border to drop hundreds of pounds of narcotics at designated drop locations in agricultural fields, rural roads, or the desert in San Diego and Imperial Counties (Figure 25).
Since 2008, when the first eight sightings were reported, there have been more than 200 incidents involving ultra-lights. For example, on August 29, 2013, U.S. Customs and Border Protection agents found an abandoned ultra-light aircraft in the Southern California desert community of Niland, near the Mexican border. Agents found nearly 190 pounds of marijuana and 13 pounds of methamphetamine valued in excess of a half-million dollars still strapped to the aircraft.135 While the frequency of ultra-light incursions is likely to increase in the near term, its significance as an emerging trafficking threat will not likely outpace panga maritime smuggling or cross-border tunnels given the cargo limitations of the aircrafts. However, as drone technology develops and becomes more widely available, law enforcement will have to be prepared to contend with these unmanned aerial trafficking threats.
Figure 25
Seized Ultra-Light Aircraft
Source: U.S. Department of Homeland Security, U.S. Customs and Border Protection
Sustained Funding Is Critical to Continued Law Enforcement Success
Law enforcement officials in California have made significant inroads in tackling the new trafficking strategies developed and utilized by transnational criminal organizations. For example, in 2012-2013, California state drug task forces disrupted or dismantled 140 drug, money-laundering and gang organizations; arrested nearly 3,000 individuals, including 176 gang members; rescued 41 drug endangered children; confiscated 1,000 weapons; and seized nearly $28.5 million in U.S. currency in anti-narcotic law enforcement actions statewide.
Law enforcement agents have also disrupted and dismantled Sinaloa cells operating in California. For example, in "Operation Silver Fox," which began in January 2009, the California Department of Justices's Bureau of Narcotics Enforcement ("BNE") and the Imperial County Narcotic Task Force, District Attorney, and Sherriff conducted an 8-month investigation in San Bernardino, Los Angeles, and Imperial Counties that included more than 100 surveillance operations, 30 undercover meetings with Sinaloa cartel members and associates, and the execution of 6 search warrants. The operation led to indictments against 16 alleged Sinaloa members and the seizure of:
420 pounds of cocaine and 136 pounds of marijuana, with a combined street value of more than $19 million;
$1.7 million in U.S. currency; and
nine firearms, including seven handguns and two assault rifles.
A similar investigation by two Imperial Valley Task Forces, dubbed "Operation Kings X," resulted in 70 separate indictments, including the arrest of a top Sinaloa cartel member on charges of attempted kidnapping and extortion, and the seizure of 77,319 pounds of marijuana, 2,092 pounds of cocaine, 191 pounds of methamphetamine, 114 pounds of heroin, 35 vehicles, and more than $9.35 million.
The Inland Crackdown Allied Task Force has also had some success cracking down on Sinaloa activity in Southern California, including the September 2012 arrest of four Sinaloa associates in Riverside County in connection with a $1 million methamphetamine sale, and the November 2011 arrest of two Sinaloa associates in connection with a $1.8 million cocaine sale.
BNE also led a number of successful crackdowns involving prison and street gangs, most notably, "Operation Crimson Tide." Over the course of a two-year investigation, spanning 23 counties and 13 correctional institutions, BNE significantly weakened Nuestra Familia, the chief rival prison gang to the Mexican Mafia, by arresting all of the organization's regional commanders.
Notable raids in the operation included:
a June 2011 takedown of the San Joaquin Valley branch of the gang, in which more than 50 properties were raided and 101 suspects were arrested, including Gonzalo "Gunner" Esquivel and Felipe Gutierrez, whom agents described as "the highest-ranking [Nuestra Familia member] that we know of on the outside";
the 2012 arrests of 15 additional members in San Jose and Santa Clara counties, including 7 female associates; and
a May 2013 takedown, dubbed "Operation Snake Eyes," which resulted in the arrests of 47 Nuestra Familia members involved in a Salinas methamphetamine distribution ring.
In 2012, BNE suffered severe budget reductions and was forced to close down. As a result, the number of state task forces dropped from 55 in 2011 to just 17 in 2013, a 70 percent reduction in field operational capacity.
This reduction in law enforcement funding has adversely impacted the California Department of Justice's local drug interdiction and organized crime fighting activities statewide. Task forces led by the Department of Justice have played an integral role in fighting narco-trafficking gangs, and the continued growth of transnational criminal organizations warrants increased funding for task forces and associated Special Operations Units within the Department of Justice.
Sources: Office of the Attorney General, Brown Announces 16 Indictments, 550 Pound Drug Seizure Following Infiltration of Sinaloa Cartel (Aug. 26, 2009); San Diego and Imperial Counties High Density Drug Trafficking Area, HIDTA Annual Report (2012), p. 12; Indictment, U.S. v. Esquivel (E.D. Cal 2011); Don Thompson, More Than 100 Arrested in Sting of Calif. Gang, Bakersfield Now (Jun. 8, 2011).
Globalization Creates New Money Laundering Threats
As globalization increases and California's participation in international trade continues to intensify, transnational criminal organizations have exploited the associated increase in the volume of goods and services crossing international boundaries to disguise, launder, and smuggle the money they reap from the sale of drugs and trafficking of persons. One example of this phenomenon is trade-based money laundering.
California's International Commerce and Trade-Based Money Laundering Schemes
An integral part of the Pacific Rim economic community and, on its own, one of the world's largest economies, California is a major hub for international trade and commerce.136 In 2012, international trade flowing through California's ports totaled $579.6 billion.137 Los Angeles exported $121.3 billion worth of goods and imported $282.6 billion in foreign goods. Combined, Los Angeles' imports and exports represent more than 69 percent of California's total international port trade.138
California's substantial international trade provides a platform for complex trade-based money laundering schemes to flourish.139 In these schemes, cash derived from criminal activity is laundered through trade and commerce transactions that appear to be legitimate.140 While trade-based money laundering in the U.S. has not been studied systematically, some experts estimate it to be the most significant method used to launder money from the country. Not surprisingly, transnational criminal organizations are using it with increasing frequency.141
One mechanism used by these organizations to finance trade-based money laundering is the Black Market Peso Exchange (Figure 26). The scheme exemplifies a trend towards decentralizing and outsourcing money laundering functions to limit exposure to criminal liability.
In the Black Market Peso Exchange scheme, a transnational criminal organization's money laundering is outsourced to a Money Laundering Organization (Peso Broker), which helps finance an international trade transaction using cash derived from criminal activity, such as the sale of drugs. The Peso Broker arranges for the delivery of a trafficker's drug cash to a U.S. vendor to pay for goods ordered by a business customer based in Mexico. The trade goods are then shipped to Mexico and sold by the Mexican business customer. The Mexican business customer reimburses the Peso Broker, in pesos, for the dollars used to purchase the U.S. trade goods. The Peso Broker, in turn, pays the transnational criminal organization, in pesos, the amount of illicit drug money used to finance the international trade transaction.
In this way, the transnational criminal organization has transferred the narco-dollars from the U.S. to Mexico and, for a relatively small fee, has effectively converted the proceeds to Mexican pesos. The Mexican business has also reduced its costs in conducting an international trade transaction, thus increasing its profit margin. The Peso Broker has made a commission from both the transnational criminal organization and the Mexican business customer without exposing itself to criminal liability associated with the smuggling and distribution of narcotics. And the U.S. vendor, a business engaged in international trade and commerce, has generated a profitable cash transaction, increasing its market share over its competitors.
Figure 26
Trade-based Money Laundering Scheme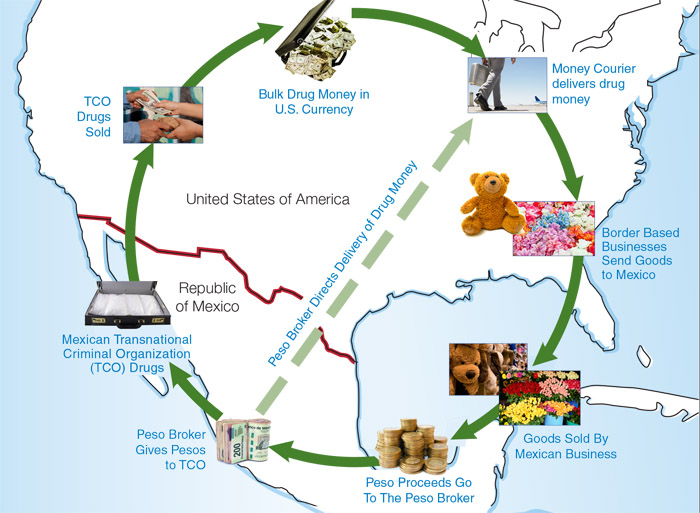 The laundering of cash drug proceeds through products and hard goods has come under scrutiny by law enforcement in California. In cases from 2010 to 2013, the federal government has prosecuted several Los Angeles-based international trade vendors and their owners who were engaged in laundering transnational criminal organization cash drug proceeds through the sale of silk flowers and toy bears. The three companies, Angel Toy Corporation, Woody Toys, Inc., and Peace and Rich, collectively laundered approximately $17.7 million in U.S. currency through trade-based money laundering schemes.142
All three vendors received significant amounts of bulk cash from third parties (drug money couriers) to pay for international orders by Mexican and Colombian businesses seeking delivery of toys and or silk flowers. Bulk cash deliveries in amounts exceeding $10,000 were then broken up into smaller amounts by the defendant businesses before being deposited to avoid triggering notice requirements by the banks to federal regulators. Angel Toy executed approximately 63 structured cash deposits, while Woody Toys involved approximately 59, and Peace and Rich involved approximately 151. Anonymously structured cash bank deposits were funneled from various cities around the country, including New York City, Chicago, and Laredo, Texas, to the defendants' business bank accounts, with credit assigned to the international customers.
Due to the substantial amount of illicit drug proceeds flowing through the community and the willingness of some Los Angeles business owners to launder money on behalf of transnational criminal organizations, law enforcement officials consider Los Angeles and its many specialty business districts – the toy, jewelry, flower, garment and fashion districts – to be a "Mecca for narco-dollars" and a "target-rich environment" for money laundering.143
Conclusion
The adaptability and fluidity of modern-day transnational criminal organizations ensures constant new challenges for law enforcement officials. Transnational criminal organizations in California are taking advantage of new technologies to communicate, recruit, propagandize, and intimidate. Transnational criminal organizations have also used the increase in global trade to mask their trafficking activities, increasingly relying on panga boats to transport drugs, weapons, and human cargo from Mexico up the coast into California. These organizations have further proven highly sophisticated in exploiting the complexities of international commerce to disguise, launder, and smuggle money made from the sale of drugs and trafficking of persons.