Chapter 3: The Impact on a Child's Well-Being and Academic Success
Both common sense and research show: children who are habitually absent from elementary school will fall behind their classmates. Students who miss a lot of school in the early years are likely to become disengaged from their studies and struggle academically.69Gottfried, M. A. (2009). Excused versus unexcused: How student absences in elementary school affect academic achievement. Educational Evaluation and Policy Analysis, 31(4), 392-415. Children who are not in school are not exposed to critical tools for learning, nor are they screened for potential health issues or abuse. Truant and chronically absent children also fail to gain the social skills and discipline that can lay the groundwork for a productive life.
School Attendance Impacts Academic Success
In elementary school, students build the foundation for future learning – from reading and writing to math, science and social studies. Once a student is no longer able to keep up with his or her classmates, the student may become disengaged and develop behavior problems.70Balfanz, R., Herzog, L., & Mac Iver, D. J. (2007). Preventing student disengagement and keeping students on the graduation path in urban middle-grades schools: Early identification and effective interventions. Educational Psychologist, 42(4), 223-235.
Attendance in elementary school is critical to building on the school readiness skills that children learn in preschool or Head Start programs. Students who miss too much school in elementary school face a swift rollback of these critical skills. According to a study commissioned by Attendance Works that compared the scores of more than 600 kindergarten students on a school readiness exam and a 3rd-grade reading test, students who arrived at school academically ready to learn – but then missed 10% of their kindergarten and first grade years – scored, on average, 60 points below similar students with good attendance on third-grade reading tests. In math, the gap was nearly 100 points.71http://www.attendanceworks.org/wordpress/wp-content/uploads/2010/04/ASR-Mini-Report-Attendance-Readiness-and-Third-Grade-Outcomes-7-8-11.pdf.
Third grade reading level is an especially important barometer of future success because by third grade, students are beginning to "read to learn," rather than simply "learning to read." A 2012 study shows that 1 in 6 students who are unable to read proficiently by third grade will fail to graduate from high school on time.72Hernandez, D.J.(2012). Double Jeopardy: How Third-Grade Reading Skills and Poverty Influence High School Graduation. Hunter College and Graduate Center City University of New York. Retrieved from http://www.aecf.org/~/media/Pubs/Topics/Education/Other/DoubleJeopardyHowThirdGradeReadingSkillsandPovery/DoubleJeopardyReport030812forweb.pdf. For economically disadvantaged students, the consequences of falling behind are even greater. The same study found that 35% (more than a third) of economically disadvantaged students who do not read proficiently by third grade and who live in neighborhoods with high concentrations of poverty fail to graduate. These figures indicate the dire consequences of missing school in the early years – truant students miss valuable learning time, and are at great risk of falling behind and of never catching back up.
Excessive absences also impact students' long-term academic success. Children who miss 10% or more of days in a school year are the most likely to suffer lower academic performance in subsequent school years, according to a 2007 study by the National Center for Children in Poverty.73Romero, M., & Lee, Y. S. (2007). A national portrait of chronic absenteeism in the early grades. New York City: National Center for Children in Poverty.
A study of Redwood City, CA students by the Gardner Center at Stanford University found that chronic absence had a statistically significant negative relationship with California Standards Test (CST) scores in both math and English Language Arts, even when controlling for student background characteristics74Researchers controlled for English learner status, students with discipline issues, and those whose parents did not complete high school. and prior test performance.75Sanchez (2012).
Even students with high attendance rates suffer academically from attending a school with high absenteeism.
Poor academic performance is a wide-ranging effect of truancy and chronic absence that also hurts children who are in the classroom. A 2011 study by the Campaign for Fiscal Equity (CFE) that analyzed the attendance records, state assessment scores, and demographics of more than 64,000 4th-graders in 705 New York City public schools in 2007-2008 found that attendance is a statistically significant predictor of student performance.76http://graphics8.nytimes.com/packages/pdf/nyregion/20110617attendancereport.pdf. In addition, the study found that even students with high attendance rates suffer academically from attending a school with high absenteeism.
California Elementary Schools with High Truancy Rates Have Lower Academic Performance
To further explore the link between truancy and academic performance, DOJ studied a sample of 549 public elementary schools77See Appendix B for a description of methodology. in California and analyzed the impact of school truancy rates on API78See Appendix A for a definition of API. scores, which measure a school's academic performance on the state's standardized tests.
As shown in Figure 3.1, high truancy rates are associated with lower academic performance as measured by API scores. Specifically, elementary schools with a truancy rate lower than 10% had an average API score of 821.22, while schools with a truancy rate of more than 40% had a significantly lower average API score of 756.08.79API scores range from a low of 200 to a high of 1,000.
For additional support outside California, we turned to a national middle school data set from the Early Childhood Longitudinal Study (ECLS).80Tourangeau, K., Nord, C., Le, T., Sorongon, A. G., & Najarian, M. (2009). Early Childhood Longitudinal Study, Kindergarten Class of 1998-99 (ECLS-K): Combined User's Manual for the ECLS-K Eighth-Grade and K-8 Full Sample Data Files and Electronic Codebooks. NCES 2009-004. National Center for Education Statistics. As shown in Figure 3.2 and 3.3, this data underscores the relationship between attendance and test scores.81See Appendix B for a description of methodology. While this report focuses on elementary school truancy and absenteeism, the statistics below underscore the fact that the negative effects of poor attendance continue throughout a child's education.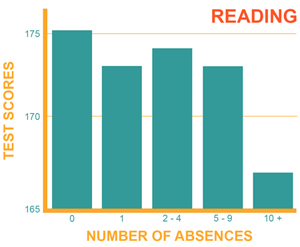 Figure 3.3: Association between Reading Scores
& Middle School Attendance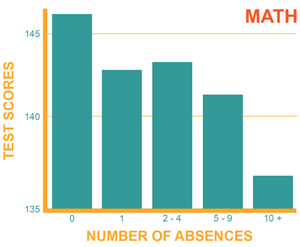 Figure 3.2: Association between Math Scores
& Middle School Attendance
Key findings from this study of 6,981 public elementary school students include:
Student absences are negatively associated with reading and math scores.
Students with 10+ absences had lower reading scores (167.55) than students with no absences (174.96).82

As sample sizes increase, the assumption that academic scores will be similar across the sample becomes greater. These scores are statistically significant because of the large sample size.

Students with 10+ absences had lower math scores (138.09) than students with no absences (146.70).
Truancy Limits Access to Critical Health Services
Students' absence from school severely limits their access to vital health services and can delay critical early diagnosis, management and treatment of medical conditions. For example, every year, elementary school students are screened for vision and hearing impairments. They are screened at least once for scoliosis between kindergarten and sixth grade. Children who miss valuable screening and preventative health measures can face serious and long-term negative health consequences.
In addition, schools are often the first place where developmental disorders are identified. For example, one study found that 97% of autistic children are diagnosed either by their school alone, or by their school in combination with other resources.83Brock, S. (2011). Identifying, Screening, & Assessing Autism at Schools. Workshop presented at the fall conference of the Colorado Society of School Psychologists, Beaver Creek, CO (302) [Finding that 57% of children with autism were diagnosed as such in combination with school and non-school resources and 40% were diagnosed with school resources alone.]. School nurses often educate parents and students about chronic medical conditions and help them to manage health conditions, such as asthma and diabetes.
Research also indicates that well-designed and well-implemented school programs can effectively promote physical activity and a nutritious diet.84http://www.cdc.gov/Features/ObesityAndKids/; see also, U.S. Dep't of Health and Human Services (2008). 2008 physical activity guidelines for Americans. Washington, DC: Author. California public schools require a minimum of 200 minutes of physical exercise for grades 1-6 every 10 schooldays as well as health education to promote healthy eating and regular exercise.85Education Code sections 51210, subds. (f) and (g) and 51210.4;Although these physical education requirements do not apply to kindergarten, the California State Board of Education strongly promotes such instruction for grades K through 12 (See Physical Education Model Content Standards for California Public Schools Kindergarten Through Grade Twelve, California Department of Education, 1-4 (2009), available at http://www.cde.ca.gov/be/st/ss/documents/pestandards.pdf.)
When children are not in school, they can too easily slip through the cracks and not receive vital support and assistance. Conversely, when children are present in school, educators can identify and report, as required by the federal Keeping Children and Families Safe Act of 2003,86P.L. 108-36. instances of suspected neglect and physical and sexual abuse.87https://www.childwelfare.gov/pubs/usermanuals/educator/educatord.cfm
Truancy & Chronic Absence Have a Disproportionate Impact on Low-Income Students, Students of Color and English Learners
Truancy and chronic absence disproportionately impact low-income students88Applied Survey Research. (2010). School readiness in Alameda County 2010. Watsonville, CA.; Nauer, K., White, A., & Yerneni, R. (2008). Strengthening Schools by Strengthening Families. NY: Center for New York City Affairs, The New School. Retrieved January, 1, 2009. and students of color89Chang, H. & Romero, M. (2008). Present, Engaged and Accounted For: The Critical Importance of Addressing Chronic Absence in the Early Grades, National Center for Children in Poverty, New York, NY. and contribute to the academic achievement gap between high- and low-income students.90Ready, D. D. (2010). Socioeconomic Disadvantage, School Attendance, and Early Cognitive Development: The Differential Effects of School Exposure. Sociology of Education, 83(4), 271-286. A focus on improving school attendance must be a central component in any effort to address major inequities in academic achievement.91Chang & Romero, 2008.
A 2010 study found that even after controlling for socioeconomic status, chronically absent children gain approximately 14% fewer literacy skills during kindergarten as compared to children with average school attendance rates.92Ready, 2010; see Zhang, D., Katsiyannis, A., Barrett, D. E., & Willson, V. (2007). Truancy Offenders in the Juvenile Justice System Examinations of first and Second Referrals. Remedial and Special Education, 28(4), 244-256. And that same study suggests that low-income children are 60% more likely to be chronically absent and face greater academic harm as a result of poor school attendance.93Ready, 2010.
Going to school regularly in the early years is especially critical for children from families living in poverty, who are less likely to have the resources to help children make up for lost time in the classroom.

National Center for Children in Poverty, 2008 report94

Chang & Romero, 2008.
As shown in Figure 3.4, public elementary schools with high truancy rates are likely to have significant numbers of economically disadvantaged students. As poverty rates increase,95Poverty rates are measured by the number of students who qualify for Free or Reduced Price Lunches. so do rates of truancy in California's elementary schools.96The data in Figure 2 are taken from a subsample of 36 California school districts with over 500 elementary schools. Data from these 549 schools are representative of elementary schools across the state.
Rates of chronic absence are also much higher for students of color, particularly Native American students.97Balfanz & Byrnes, 2012 A study from the John W. Gardner Center for Youth and their Communities found that Latino elementary school students in Redwood City, CA were chronically absent at nearly 4.5 times the rate of white students – 76% of Latino students were chronically absent, as opposed to only 17% of white students. Chronically absent students are also more likely to be English learners (57% of the sample).98Sanchez, 2012.
Chronic absence appears to have a particularly profound negative impact on the academic performance of young Latino students.99Chang & Romero, 2008. According to one study, reading scores for chronically absent Latino kindergartners were significantly lower than for their peers of other ethnicities who had missed similar amounts of school. The study's authors, Hedy Chang and Mariajosé Romero, note that Latinos are the largest and fastest growing demographic group, and now make up 1 out of 4 children under five in California. They also suggest the need for schools to have Spanish-speaking personnel who can communicate with Latino families about attendance issues.