CHAPTER 8: The Role of District Attorneys in Reducing Truancy
This chapter presents findings from interviews with district attorneys' offices across California to offer a statewide overview of the practices prosecutors use to combat truancy. District attorneys incorporate truancy reduction programs into their law enforcement portfolios in a variety of ways. However, the following key underlying principles are especially effective in combating truancy: 1) early intervention and an approach that favors providing support over prosecution; 2) a consistent and distinct role for district attorneys; and 3) collaboration with the school district and outside agencies.
Finding: District attorneys can prevent a truancy problem from escalating to the point of prosecution by educating students and parents about available resources, as well as California's truancy laws and the consequences of breaking them.
For example, to reach out to the families of chronically truant students, the Sacramento District Attorney's Office launched Partners Against Chronic Truancy (PACT) in 2010.201Interview with Sacramento County District Attorney's Office, June 17, 2013 The district attorney sends the attendance record of a truant student to his or her guardians, along with an invitation to attend a PACT meeting where a deputy district attorney, assistant public defender, superior court judge and others discuss how truancy and chronic absence impact a child's future and the legal requirements of school attendance. At the meeting, families are also provided with information on available resources, such as mentoring programs, parenting classes and school nurses.202http://www.sacda.org/assets/pdf/pr/advisories/NACo%20PACT.pdf (last visited 7/17/2013). In 2012, PACT held 31 meetings in four school districts with about 200 families in attendance at each event. Participating PACT schools report that students whose families receive a letter showed a dramatic improvement in attendance – and even more so when they attended a PACT meeting. PACT program costs are minimal and speakers are unpaid volunteers.203Ibid.
To make families comfortable – and not nervous about the involvement of law enforcement – some district attorneys' offices find it helpful to develop partnerships with community- or faith-based organizations. The Gang Reduction and Intervention Partnership (GRIP) program is an example – a collaborative effort of the Orange County District Attorney's office, the Buena Park Police Department and a faith-based organization called the Way Fellowship.204Interview with Orange County District Attorney's Office, June 16, 2013. See also, March 29, 2013 press release, OCDA and OC GRIP Kick Off Spring With 10th Annual Soccer Camp To Encourage Healthy And Positive Choices For Students, retrieved from http://www.orangecountyda.com/home/index.asp?page=8&recordid=3457&returnurl=index.asp%3Fpage%3D8%26pagenumber%3D1%26pagesize%3D30000%26deptid%3D%26archive%3D0%26sl_month%3D12. The GRIP team focuses on truant students in grades 4-8 and works with the schools directly (rather than being coordinated through the district). In an effort that is separate from the SARB process, the GRIP team performs early intervention by making home visits to at-risk families. Often, a principal will call the GRIP team and request a home visit after noticing that a student is chronically late, or looks as if he or she is having problems. This type of collaboration by law enforcement, schools and community- and faith- based organizations allows for early intervention for children and families who need support to fix an attendance problem.
Finding: Sending a letter to parents at the outset of the school year on official district attorney letterhead can be an effective way of reminding them of the importance of regular attendance and their responsibility to ensure their children get to class every day.
Several district attorneys reported that they send a letter to parents on official letterhead to do any or all of the following:
Inform parents/guardians that their child is truant;
Inform parents/guardians of their legal requirement to send their child to school;
Inform parents/guardians that if they do not send their child to school, they may be prosecuted by the district attorney; and,
Inform parents/guardians of programs run by the district attorney or school district, as well as the availability of referrals for help to improve attendance.
At the beginning of each school year, the San Francisco District Attorney's office sends a truancy letter to the parents/guardians of every child in the public schools to remind them of their obligation to get their children to school. San Francisco Unified School District reinforces this message in its parent-teacher manuals by including a letter from the district attorney's office that explains the truancy laws and requirements.205Interview with San Francisco District Attorney's Office, May 24, 2013.
Finding: Not all district attorneys participate in a SARB or mediation process. The voluntary participation by a district attorney's office in a SARB or mediation process is highly effective at reducing prosecutions for truancy and chronic absenteeism.
Many of the district attorneys' offices that were interviewed for this report participate in SARB meetings or truancy mediation programs – and this participation by a deputy district attorney or district attorney investigator helps to ensure that students return to the classroom.
Deputy district attorneys from Ventura County attend all SARB meetings and mediate between the parties.206Interview with the Ventura County District Attorney's Office, June 7, 2013. Approximately 80% of the truancy team's duties involve attending SARB meetings, which occur on a regular basis and are designed to allow the deputy district attorney and other SARB members to uncover the roots of a student's truancy and make appropriate referrals – for public health services, parenting classes and, in the case of abuse, child protective services.207Ibid.
Ventura County deputy district attorneys attended SARB meetings for over 2,300 students in 2012-13. Attendance records for 26 of the 28 participating SARB schools/districts showed a significant improvement within two months of a meeting. Prior to attending a SARB meeting, on average students missed 20% of the days they were enrolled. In the 60 days following a SARB meeting, those same students missed less than 12% of the days they were enrolled.208Information provided by the Ventura County DA's Office, July 25, 2013. There was also a dramatic decrease in unexcused absences after participation in the SARB process.209Ibid.
The Santa Barbara County and the Nevada County district attorneys' offices similarly focus on prevention through the participation of a deputy district attorney in pre-SARB and SARB meetings.210Interview with Santa Barbara County District Attorney's Office June 21, 2013; Nevada County DA's Office response to Fight Crime Invest in Kids California Violence Prevention Survey, June 2013. The Nevada County District Attorney's office also meets monthly with each of the school districts in the county.211Nevada County DA's Office response to Fight Crime Invest in Kids California Violence Prevention Survey, June 2013.
And in Siskiyou County, a member of the district attorney's office sits on the SARB, which is tailored to address the unique needs of the community – comprised of a significant population of Native American students – by including tribal officers and tribal representatives as well as other law enforcement officials and health and human services representatives.212Siskiyou County DA's Office response to Fight Crime Invest in Kids California Violence Prevention Survey, June 2013. Follow-up interview on July 31, 2013 and September 16, 2013.
A Child's Success Story After District Attorney Referral
Caleb missed 24 full days of school and was tardy an additional 68 days during the fourth grade. After school district officials referred his case to the DA, Caleb received counseling from a non-profit community-based organization. From the date of his referral to the DA to the end of the school year, Caleb improved his unexcused absences by 82%. As a result of his improved attendance and participation in the classroom, Caleb scored very highly on academic tests and is now receiving instruction for gifted and talented students.
Some counties that do not have a SARB process – like Monterey County – have developed robust mediation programs instead. The Monterey County District Attorney's office runs the Truancy Abatement Program (TAP), which is fully funded by the county's 25 school districts.213Interview with Monterey County DA's Office, July 3, 2013. As part of TAP, a representative from the district attorney's office holds a formal meeting with the truant student, his or her parents/guardians and a school representative. The purpose of the meeting is to uncover the root issues underlying the truancy and provide referrals for social services. The parties enter into a mediation contract, which typically involves parenting classes. One month after the truancy meeting, a follow-up meeting is scheduled with the district attorney to review and evaluate the student's attendance. If attendance has improved, no further action is necessary; however, if attendance has not improved, the parents are issued a citation to appear in truancy court for violation of the truancy laws. The Monterey County District Attorney estimates that its program has an annual cost of $89 per program participant.
Many school district officials in counties where the district attorney does not participate in the SARB process regretted this lack of participation. It is recommended that DAs participate in SARBs.214For a complete list of recommendations, see Chapter 9.
Finding: Beyond SARB participation, close collaboration between school districts, law enforcement and the courts is necessary in a student's elementary school years to intervene early and address truancy and chronic absence.
In Los Angeles, the district attorney's office has created a program entitled Abolish Chronic Truancy or A.C.T., which focuses on elementary school truancy. A.C.T. places district attorney staff in elementary schools to work with administrators, teachers, parents and students to intervene at the very beginning of the truancy cycle. District attorney staff members inform parents that it is their legal responsibility to ensure their children attend school and that education is essential, and students and families are directed to school and community resources to overcome the source of the attendance problem.215Interview with Los Angeles District Attorney's Office, May and September 2013.
The Los Angeles District Attorney's office, among others, shares the view that intervention at the elementary level is critical because truant behavior is not as ingrained at this age as it may later become. The parents and guardians of the elementary school child still have control over the child's attendance and can, therefore, be held accountable. Later intervention, by contrast would allow the child to fall so far behind academically as a result of the truancy that getting the pupil back in school will be more difficult.216See Los Angeles District Attorney's Office website discussing its truancy program, retrieved from http://da.co.la.ca.us/cr/act.htm#act.
While prosecution can result from A.C.T. intervention, the focus of the program is not to punish parents, but to get truant students back in the classroom.
Chronically truant students who are referred to the A.C.T. Program in Los Angeles County are improving their school attendance by eight full days within one year of referral.217RAND Corporation Justice, Infrastructure, and Environment Division, Los Angeles County Juvenile Justice Crime Prevention Act: Fiscal Year 2011-2012 Report, at 46 (2013) (available at www.rand.org).
Finding: District attorneys who do prioritize truancy rely on the school district to provide them with timely and sufficient records and evidence to prosecute a truancy case.
Without an adequate record of a student's attendance or documentation of the district's efforts to meet with parents, including a copy of the mandatory truancy notification letters, district attorneys cannot prosecute a case.
District attorneys' offices also noted the need for consistency in how schools designate an absence as excused or unexcused. When attendance coordinators do not use a clear system, it is difficult for a district attorney's office to determine whether a student meets the legal criteria for habitual truancy (if prosecuting an infraction) or chronic truancy (if prosecuting a misdemeanor). This limits a district attorney's ability to assist families and get them back on the path to regular attendance.
Through close and regular contact, school districts and district attorneys can also avoid issues of timeliness in addressing truancy. School districts need to refer truancy cases to the district attorney's office in a timely manner in order to minimize the number of school days missed. Likewise, some district officials interviewed for this report noted that by the time the district attorney took a case, the student had already left school.
Finding: Some district attorneys set minimum age limits for the truancy cases they will accept from a SARB. This creates an impediment to intervening when a child is still young, the stage where intervention efforts can be particularly effective.
As discussed above, in many counties, district attorneys play an active role in SARBs and other truancy intervention programs. However, district officials interviewed for this report suggested that clarifying the district attorney's role in the SARB process would improve its effectiveness. In some counties, the district attorney does not accept SARB referrals for parents whose children are under the age of 11 or 14. Such policies fail to support truant elementary school children who might be in the best position to get back on a path to success with an early intervention.
It is critical that district attorneys play an active role in truancy prevention. Given the long-term negative effects of elementary school truancy, it is recommended that prosecutors accept referrals for truancy prosecutions when an elementary school child is involved.218For a complete list of recommendations, see Chapter 9.
Finding: The courts play a vital role in reducing truancy and – through a dedicated judge who hears these cases on a regular basis – can ensure a measured legal response to truancy cases. The courts can also use their authority and discretion to increase pressure on parents/guardians to fulfill their legal obligations related to school attendance.
School district officials noted that – in serious cases that are brought to court – there is often not a dedicated truancy judge, which can prevent equal outcomes and equal treatment for families. If a court alternates judges in the truancy court on a weekly basis, then the judge may not fully understand the issues and obstacles facing the families of truant students. As a result, the penalties issued by the court can be inconsistent – a parent before Judge X gets a dismissal with a warning while a parent in similar circumstances who committed the same offense but appears before Judge Y gets fined $250.
The Alameda County Parent Truancy Court is an example of a truancy program with a dedicated court that uses prosecution of Education Code section 48293 infraction cases as a tool to bring families to the table and find solutions to their attendance problems.219Interview with Alameda County District Attorney's Office, May 7, 2013 and June 14, 2013.
The process typically begins when the Alameda County District Attorney's office reviews a truancy case referred by the school district and, if appropriate, files an infraction against the parent(s) of a truant student.220If after prosecution of the infraction the matter is not resolved, the district attorney could potentially bring a Penal Code section 270.1 misdemeanor count, but in Alameda they have only brought that charge a few times. These truancy cases are heard weekly by a dedicated superior court judge. In Alameda County, after the parent pleads guilty to the infraction, the matter is stayed so that the court can monitor the case while the family is referred to any necessary services that will assist the family get the child back to school.
Alameda County also has developed partnerships with community and county organizations in order to identify and meet the needs of each family facing truancy issues.221Ibid. Some examples include the Lincoln Child Center (LCC), which has counselors in the courtroom who are assigned upon entry of a guilty plea, to assist families with the obstacles they face in getting a child to school. For families dealing with an asthma-related issue, Asthma Start provides nurses from the Alameda County Health Department who create an asthma treatment plan for families. Similarly, Health Education and Attendance for Life can send a nurse to a family's home to evaluate a truant student's medical condition to ensure he or she obtains any health-related treatment needed to return to school. Parents are required to return to the Alameda County Parent Truancy Court for status hearings. If the student's attendance improves, the case will be dismissed at the end of the year.
In 2011-2012, the guardians of 55 students appeared in the Alameda County Parent Truancy Court.222http://www.atschool.alcoda.org/truancy_referrals Of those 55 families, 89% showed an improvement in attendance, while 21% showed a 100% increase in attendance.223Ibid To recognize children and parents who have turned around a truancy problem, the Alameda County District Attorney's Office secures grant funds to purchase backpacks filled with school supplies, which are given out at the court dismissal hearing at the end of the school year.
Of the 25 Alameda County Truancy Court parents surveyed for this report, 100% described it as a beneficial experience either for them or their children. One boy's father had passed away, making regular attendance in second grade difficult for the family. After visiting the truancy court and being referred to counseling services, not only did the boy's attendance improved, but also his grades improved substantially. Many parents said they were grateful to the district attorney and the judge for "sticking by them" and working to help them get their children to school on a regular basis.
I just would like to say that this program is very successful and it does help the parents and children stay on task. And I thank you very much.

- Mother of two 3rd graders
Finding: Successful district attorney truancy programs use prosecution only in the most severe cases of chronic truancy to identify and remove barriers to attendance, including mental and physical health challenges, substance abuse and housing and financial instability.
Truancy Intervention Steps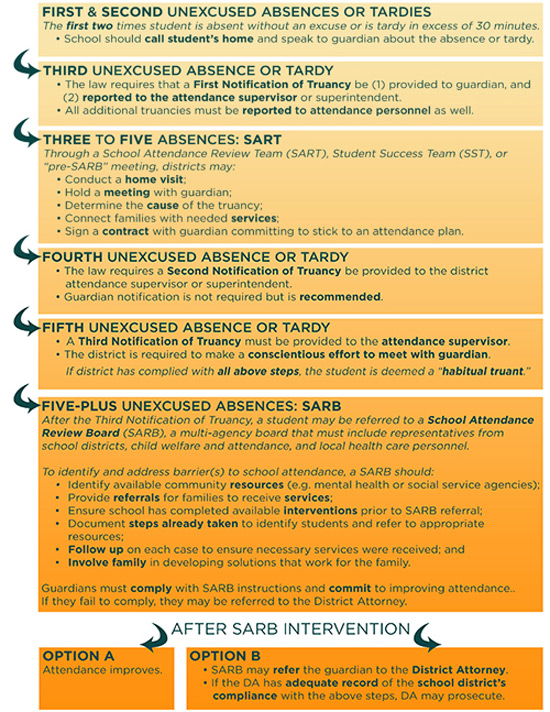 Truancy Intervention Steps
California law provides district attorneys with broad discretion whether to investigate, charge, and prosecute any type of case in his or her county.224Government Code section 26500. A prosecutor ordinarily has sole discretion to determine whom to charge, what charges to file and pursue, and what punishment to seek. (People v. Eubanks (1996) 14 Cal.4th 580, 588.) As a public prosecutor, this discretionary power also includes the ability to seek alternative methods to resolve a matter –even in a situation in which a crime has been committed.225District attorney's pre-charge discretion to investigate and decide whether to file charges includes discretion to determine that, despite evidence of a criminal violation, the matter may be sufficiently addressed without prosecution. (People v. Parmar (2001) 86 Cal.App. 4th 781, 807.) After prosecutorial proceedings have begun, district attorneys can pursue many options to achieve their goal of getting a child back into the classroom on a full-time basis.
Nearly all of the district attorneys surveyed for this report said they rarely prosecute violations of Penal Code section 270.1. On average, district attorneys reported prosecuting 3-6 Section 270.1 cases per year. This low number of prosecutions is due to the fact that early intervention strategies like assemblies, SART meetings and SARB hearings, and mediation programs are highly successful.226For a description of California truancy law, see Chapter 6.
There may be extreme cases in which every effort to get a child back to school has been exhausted that are appropriate for prosecution. For example, using Penal Code 270.1, the Kings County District Attorney's office prosecuted a mother whose two elementary school children had a combined 116 absences in a single school year. The mother had disregarded and failed to respond to 15-20 previous outreach efforts.227http://www.educationnews.org/parenting/california-mother-sentenced-to-180-days-for-abetting-truancy/#sthash.mKcheaNe.dpuf(visited July 16, 2013); http://www.foxnews.com/us/2012/10/03/california-mom-jailed-for-kids-truancy/ (visited July 16, 2013). However, the district must engage in multiple intervention steps before a parent is prosecuted to provide extensive opportunities for families to correct attendance problems.
District attorney participation is key to any effective effort to reduce truancy. It is recommended that district attorneys reach out to families to ensure they understand their obligations related to school attendance and work closely with school districts to develop a coordinated response to truancy and chronic absence.