Prevention & Intervention Efforts
In School + On Track 2013 included three key findings:
Truancy and absenteeism in elementary school have far-ranging implications for California's economy, public safety, and children;
Student record systems need repair and upgrade to accurately measure, monitor and respond to children's attendance problems; and
Early intervention - even in severe cases - can get young children back on the right track.
In this year's report, we find that rates of truancy and absenteeism remain at crisis levels and cost the state billions of dollars each year. Given these findings, in this chapter we explore changes in our state's ability to track and respond to attendance issues at the local and state level since last year's report.
There are signs of increased attention to truancy and chronic absence prevention and intervention since last year's report. However, there are many districts still in the initial stages of their work to more closely track and respond to attendance problems. There is also considerable variation across the state in the way that school districts define and monitor attendance. This makes it difficult to fully assess the extent of the attendance crisis in California, as discussed in Chapter 1. Finally, there is a need for the state to assist local governments in their efforts to curb truancy and chronic absence by modernizing the state's student record system and by requiring more extensive reporting of School Attendance Review Boards (SARB) activities.
Prevention
Tracking & Monitoring Truancy and Chronic Absence
Educators cannot reduce truancy and chronic absence without the ability to detect when a problem occurs. In California, efforts to monitor attendance statewide are hampered by an outdated state records system that does not collect information on student absences. As a state, we have no way of knowing the true extent of the attendance crisis in California, nor are we able to study the effectiveness of certain interventions on attendance rates across the state. School districts are left to build isolated local systems of varying quality, with records that do not follow students when they transfer to a new district.
To better understand the capacity of school districts across the state to track and monitor school attendance, we surveyed districts statewide for the second year in a row. In this chapter, where possible, we highlight changes in district programs or policies reported since the 2013 report.1
Tracking
Districts vary in the way they code student absences, which can complicate efforts to track attendance issues in the state. For example, districts vary in how they track and code "chronic absence" as an indicator of attendance problems. While the Education Code defines chronic absence in California as missing 10% or more of the school year,2 one large school district in southern California codes it as missing 9% or more of the school year in their district LCAP.3 Another district in the same county codes chronic absence in their LCAP as missing 15 days or more of school.4 This makes it difficult to accurately compare rates throughout the same county, let alone across the state.
The state can play an important role by providing a common definition of chronic absence and by providing school districts with multiple years of attendance records.5 Such infrastructure will allow comparisons of chronic absence rates across districts and provide information on student attendance when highly mobile students move from one district to another.6 Furthermore, this information would allow districts to meet their obligations under LCFF to identify chronic absence rates in their LCAPs, as well as set and meet goals for improvement over time.
Finding: UNNECESSARY VARIATION AMONG DISTRICTS IN THE WAY THAT THEY CODE STUDENT ABSENCES MAKES IT DIFFICULT TO COMPARE ATTENDANCE RATES ACROSS DISTRICTS, COUNTIES OR THE STATE.
Monitoring
To prevent attendance problems from escalating, it is important to detect the problem early and to address it immediately.7 The more time that passes between each attendance review, the more absences can accrue before interventions begin. Early detection requires careful monitoring of attendance records by the district and school sites.
Almost half of school districts surveyed reported that they review unexcused and excused absences on a monthly basis, and approximately a third of districts review attendance data daily, biweekly or weekly. In order to be able to adequately monitor attendance for all students, however, state infrastructure must be upgraded to account for mobile students' whose records currently fall through the cracks each time they transfer.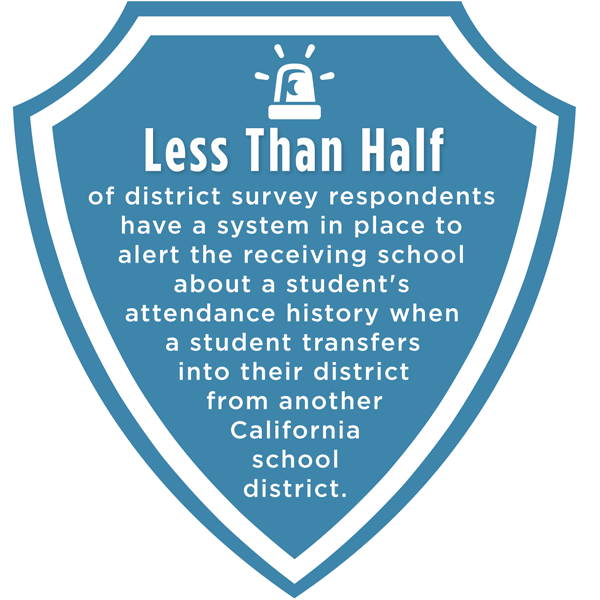 State infrastructure is also needed to provide all districts with the capacity to track student attendance longitudinally—or year after year. Districts have started this process on their own, recognizing its importance. Last year, for example, less than half of school districts had the capacity to track students' attendance longitudinally, while this year over 72% of respondents reported that their district tracks and monitors attendance information over time. However, almost 40% of the districts that reported having this capacity stated that they have had it for less than three years. While this marks a great shift for internal record keeping, these changes to the way districts track and monitor attendance do little to alleviate the gaps in external record sharing as students change schools over time.
Finding: GAPS IN OUTDATED RECORD-SHARING SYSTEMS PREVENT DISTRICTS FROM TRACKING AND MONITORING ATTENDANCE FOR EACH STUDENT OVER TIME.
Intervention
Notifications of Absence & Truancy
Educators have uniformly reported that personal outreach with students and families is most important to building a culture of high student attendance and addressing any problems with absenteeism before they become serious. In most schools, the first measure taken to address an elementary student's absence is some form of notification to the parents or guardians. Our survey of California school districts revealed that 97% of districts surveyed notify parents or guardians within the same day of the absence, and 60% of those notifications occur within the same morning. This presents a significant improvement from responses to the same question in 2013, where 88% of school districts reported that they notify the parents or guardians of their child's absence on the day that the absence occurs.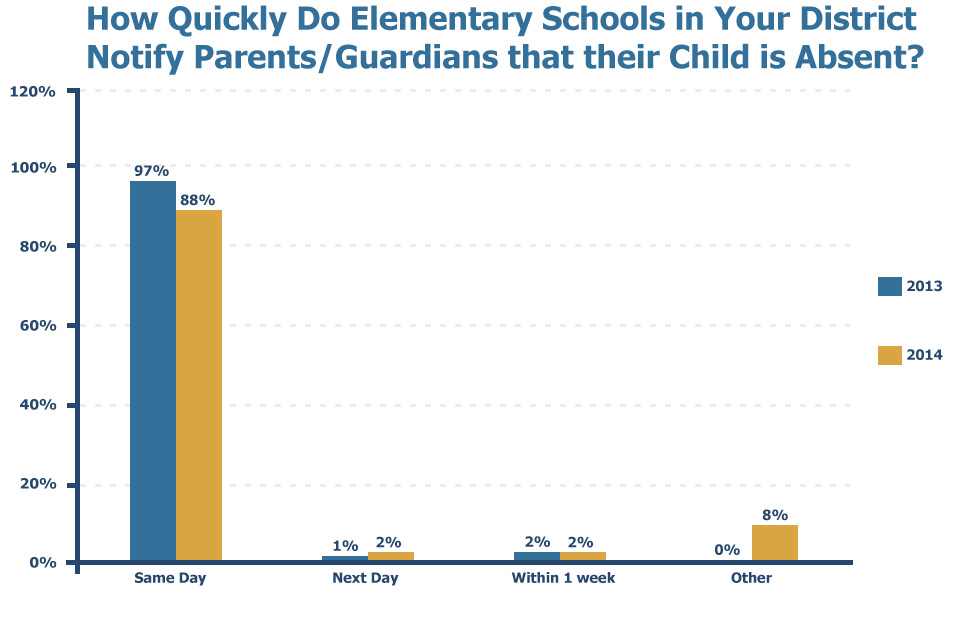 In addition, 40% of districts use at least two methods of notification to inform a parent or guardian of a child's absence. The two most common methods reported were personal calls (67%) and automated dialers (59%). However, 27% of school districts report that they rely solely on an automated dialer to contact the parent/guardian when a child is absent from school, while 33% of districts rely solely on a personal call.
According to Blackboard, an education technology company, the content of the messages that parents/guardians receive also varies by district.8 Of the three district examples provided by Blackboard, only one (Example 3) includes a note about the importance of attendance.
Example 1:
"Hello, this is [School] calling to notify you that your child, [Name], was absent or tardy from periods [Periods] on [Date]. Please call the office at _______ to verify your child's absence."
"Buenas tardes. Esta llamada es de parte de la escuela [School]. Quisiéramos informarle que [Name] no asistió a los periodos [Periods] [Date]. Por favor llame la escuela al _______ para verificar su ausencia."
Example 2:
"Dear Parent or Guardian,

This is an important message from the [School District] delivered on [Date]. Your child in grade ____ attending [School] was absent today for one or more periods. To excuse your child's absence, please call the schools attendance number at ________ within 2 days. When calling, carefully listen to the schools instructions for excusing your child's absence. Thank you."
Example 3:
"Hello. This is [School], calling to notify you that our most recent information shows your child, [Name], was either tardy or absent from one or more periods, [Periods], today. Please send a note explaining the absence when your child returns to school. High academic achievement requires regular attendance. We expect your child will achieve an attendance rate above 95 percent. Should you have any questions, please call the school at _______. Thank you for helping us provide your child with a quality education."
According to Blackboard, in 2013 the California school districts that used their services made almost 30 million phone calls, sent over 370,000 text messages and over 2.5 million emails to alert families or caregivers about their K-12 student missing school. Approximately 8.6 million family members and caregivers were targeted for these attendance messages for the over 3.7 million students under contract across California using Blackboard notifications in 2013. Similar levels of outreach occurred in 2012. These numbers are an indication of the extensive efforts some school districts are undertaking to reach out to parents and guardians about student absences.
In addition to any phone or text outreach, districts are required to send a letter to parents notifying them when their child is truant, which is defined as being absent or tardy for 30 minutes on three or more occasions.9 No additional outreach is required of districts until the fifth unexcused absence or tardy.10 However, many districts, in an effort to better communicate with parents/guardians about the importance of their child's attendance, conduct additional outreach during this time. In 2013, 94% of the 50 districts that responded to our survey reported that, between the third and fifth unexcused absence, the district or school undertakes additional outreach to parents or guardians, even though they are not required to do so. This year we have seen a slight decline, with 90% of 158 districts reporting that they conduct this additional outreach.11
Districts are also required by law to make a "conscientious effort" to meet with the parent or guardian after the third notification of truancy.12 These meetings are an important opportunity to establish the personal connection districts report is necessary to improve attendance. However, districts have significant room for improvement in this outreach. In 2013, 40% of survey respondents reported that they complete a meeting with the guardian less than half of the time after reaching out to hold a conference with them. This rate improved in 2014, with only 26% of respondents reporting that they complete a meeting less than half of the time. Despite this increase, however, these numbers still indicate that far too many parent meetings do not take place. Furthermore, almost a quarter of respondents reported in 2014 that they do not track information on meeting completion at all.
LCFF: An Opportunity to Refocus Attendance Improvement Efforts
As mentioned earlier in this report, LCFF includes attendance and chronic absence as two of the measures that school districts must use to address pupil engagement in their LCAPs. Unfortunately, a review of LCAPs reveals that districts need additional support in order to properly address attendance and chronic absence.13
Out of a sample of 80 LCAPs,14 33% of school districts did not mention chronic absence at all, and 15% simply referenced chronic absence as a metric they considered, but then did not set forth any goals or data regarding chronic absence. This falls short of the requirement that districts not only address chronic absence as a measure, but also identify goals and actions for improving present rates. Additionally, only one-third of districts described specific annual goals for reducing chronic absence, and, as mentioned previously, only 5% set forth chronic absence goals disaggregated by subgroups, such as by low-income students, English learners, and foster youth. These numbers indicate that the majority of districts have not reported plans to track or improve attendance and chronic absence in the ways LCFF intended.
Finding: FEW DISTRICTS IDENTIFY GOALS OR ACTIONS GEARED TOWARD REDUCING CHRONIC ABSENCE IN THEIR FIRST ANNUAL LCAPS.
SARB Activities & Reporting
The "Airplane Oxygen Mask" Analogy
When there is an emergency on a plane, procedure calls for adults to secure their own oxygen mask before helping the children near them.
According to one school district official, when an attendance problem is detected, the same strategy—for the parent or guardian to receive assistance first—should be applied.
Some students face significant barriers to attendance. For elementary school children, oftentimes the best way to address these barriers is to provide additional support to the child's parent or guardian.
School Attendance Review Boards (SARBs) are an important element of comprehensive efforts to reduce truancy and chronic absence. Although no two SARBs are exactly the same, a SARB is a collaborative board composed of representatives from the school district and the community. The goal of the SARB is to work with students and parents to resolve persistent attendance and discipline issues.
An interview with a SARB representative specializing in work with homeless and foster youth provided an example of the way in which her district SARB was able to provide services to help improve attendance for one family.
"A homeless, single mom had three kids—a 2nd grader, a 1st grader, and an infant. The two school-aged children were enrolled in different schools. The father of the children was in jail. The mother often had such a difficult time getting both of her kids to school on time that she would just give up. The mother wouldn't talk to anybody about her situation and eventually got called to a SARB meeting. The SARB was able to connect her with housing; set the family up with in-home support services; and got the two school-aged children into the same school. The children now have almost perfect attendance."15
The Difference between Basic and Extended SARB Forms
The State SARB has created two formats for school districts to use in compliance with state law—the Basic and Extended SARB forms. Both the Basic and Extended SARB forms require SARBs to gather and report information to the county superintendent of schools, but the reports differ in the following ways:
The Basic SARB form provides only basic information about SARB referrals—the number of students referred to SARB by grade level due to behavior problems, irregular attendance, or habitual truancy; the number of cases referred to court at each grade level; and the total number of students enrolled at each grade level.
The Extended SARB form provides, in addition to the information called for in the Basic SARB form, demographics of the population served by the SARB; the number of cases referred to the SARB; chronic absence rates for the district's entire student population by grade; and student outcomes after interacting with the SARB.
For those districts and counties that operate SARBs, California law requires that they complete annual reports that include basic information about the students who are referred to the SARB.16 The California Department of Education (CDE) provides a template for the "Basic SARB Report Form," which meets the minimum reporting requirements, and a template for the "Extended SARB Report Form," which provides more detailed information on the most pertinent SARB data.17
As in 2013, we requested SARB reports from all 58 counties for the 2014 report. This year, 34% of SARBs that responded to our request used either the "Extended SARB Report Form," or some variation of the extended form, compared to only 22% in 2013. Moreover, the number of SARBs using a reporting format that did not meet the requirements of even the "Basic SARB Report Form" declined from 26% to 11%. This represents a significant improvement in SARB reporting since last year.
SARB Reporting by County in 2013-2014
18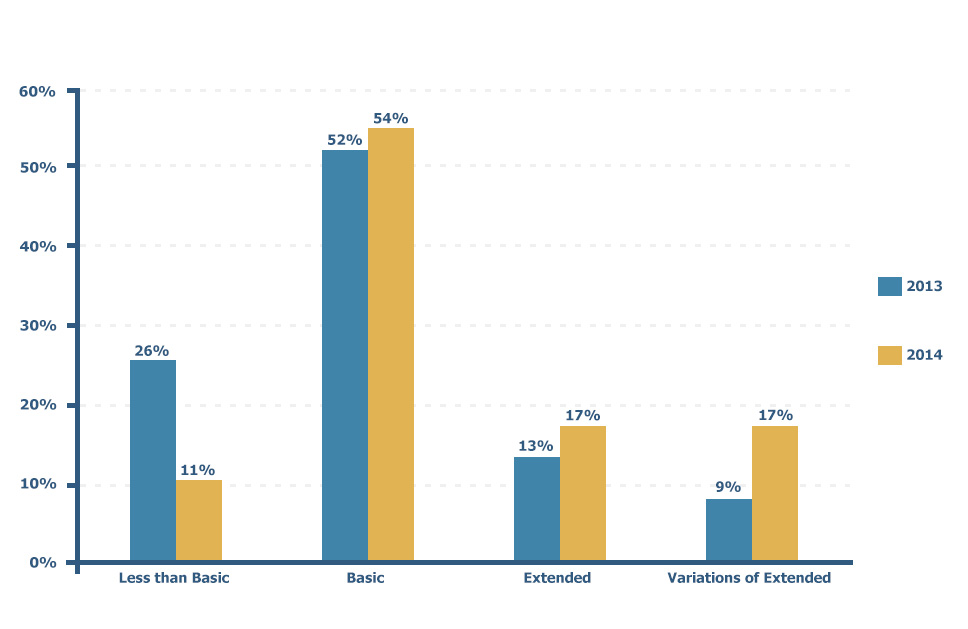 However, major gaps in SARB information remain. Nearly one-third of districts in this year's survey reported that they do not have a system in place for tracking changes in the attendance of elementary school students after they have been through the SARB process.19 This is counterintuitive to the purpose of a SARB, as it prevents the district from identifying which interventions were successful in improving attendance.
AB 167220 (Holden) seeks to resolve this problem by expanding SARB reports to include, among other things, the number of students who improved their attendance after engaging in the SARB process, as well as the number of students and parents or guardians referred to community services. This information would directly benefit SARBs by providing them with records of which interventions led to improved attendance.
Finding: A SUBSTANTIAL PROPORTION OF SCHOOL DISTRICTS DO NOT TRACK POST-SARB ATTENDANCE RATES, MAKING IT DIFFICULT TO IDENTIFY SUCCESSFUL SARB INTERVENTION STRATEGIES.
Truancy Prosecution
When dealing with problems surrounding elementary student attendance, parent prosecution should always be a last resort that is used sparingly and appropriately. In School + On Track 2013 highlighted the invaluable role that District Attorneys can play by participating in truancy prevention before a case ever goes to prosecution. By educating parents and children about truancy laws, attending district and county SARB meetings, and working collaboratively with schools, District Attorneys and other law enforcement entities have the opportunity to prevent truancy before it becomes severe.
Nevertheless, on rare occasions, prosecution becomes a necessary step to address the most egregious attendance problems when all other forms of intervention have been exhausted. If an elementary student is deemed a "habitual truant,"21 the parent or guardian may be prosecuted for an infraction, and face fines up to $500.22 In more severe cases, a District Attorney can exercise his or her authority to charge a parent of a "chronically truant"23 student with a misdemeanor24 when the guardian has failed to reasonably supervise and encourage the child's attendance.
The tables below 25 indicate how rare it has been for parents and guardians to be charged under the truancy infraction and misdemeanor statutes in California over the past five years. Furthermore, only approximately 8% of parents or guardians charged under these statutes were convicted, as cases can be dismissed for improved attendance. These low rates of prosecution indicate that the vast majority of elementary school truancy can and should be solved before any charges are necessary.
Parents/Guardians Charged Under Truancy Statutes in California
| Penal Code | Type of Charge | 2009 | 2010 | 2011 | 2012 | 2013 | TOTALS |
| --- | --- | --- | --- | --- | --- | --- | --- |
| Ed. Code § 48293(A) | Infraction | 157 | 183 | 156 | 185 | 161 | 842 |
| Penal Code § 270.1(A) | Misdemeanor | 0 | 0 | 28 | 40 | 52 | 123 |
| TOTALS | | 157 | 183 | 184 | 225 | 213 | 962 |
Parents/Guardians Convicted Under Truancy Statutes in California
| Penal Code | Type of Charge | 2009 | 2010 | 2011 | 2012 | 2013 | TOTALS |
| --- | --- | --- | --- | --- | --- | --- | --- |
| Ed. Code § 48293(A) | Infraction | 29 | 12 | 9 | 5 | 5 | 60 |
| Penal Code § 270.1(A) | Misdemeanor | 0 | 0 | 2 | 7 | 8 | 17 |
| TOTALS | | 29 | 12 | 11 | 12 | 13 | 77 |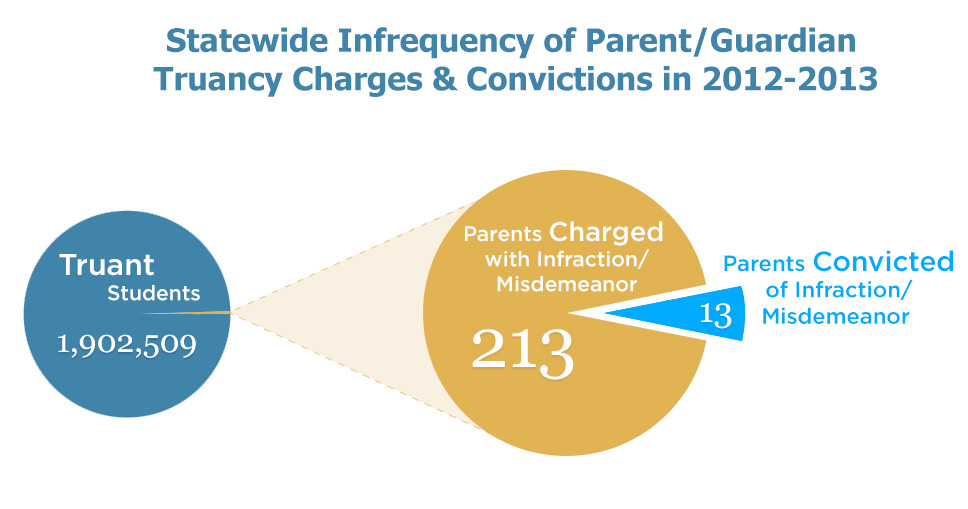 A closer look at one county's prosecutions shows that the vast majority of criminal proceedings can be avoided through the SARB process.26 Furthermore, only a very small number of these charges end in actual convictions. For example, of the 275 SARB referrals in Santa Barbara County last school year, only 2% ended in infraction convictions against parents/guardians. These rates suggest the effectiveness of pre-prosecution intervention efforts.
Santa Barbara County Parent/Guardian Prosecution Referrals & Outcomes 2013-14
| | Total SARB Referrals | Parents/Guardians Referred to DA | Ed. Code § 48293 Infractions Filed | Infractions Pending | Infractions Dismissed for Improved Attendance | Infraction Convictions |
| --- | --- | --- | --- | --- | --- | --- |
| Lompoc SARB | 102 | 20 | 11 | 3 | 4 | 4 |
| North County SARB | 4 | 2 | 0 | 0 | 0 | 0 |
| Santa Maria SARB | 78 | 14 | 5 | 0 | 4 | 1 |
| Santa Ynez SARB | 4 | 2 | 0 | 0 | 0 | 0 |
| South County SARB | 87 | 3 | 3 | 3 | 0 | 0 |
| Countywide Total | 275 | 41 | 19 | 6 | 8 | 5 |
According to our survey, approximately two-thirds of districts in California refer some parents or guardians of elementary school students to the District Attorney's office for truancy matters. However, nearly half of these respondents reported that they do not track what happens to the family after a referral.
This marks another gap in local information-sharing which makes it more difficult for school districts and law enforcement to work collaboratively to help students. When gauging the necessity of a referral to the district attorney's office, information on the outcome of referrals is imperative for a school district to make an informed decision about whether previous interventions were successful and whether similar cases should be handled the same way in the future.
AB 214127 (Hall & Bonta) seeks to remedy this shortcoming by requiring the district attorney's office, or any other agency engaged in truancy prosecution or mediation, to provide a report on the outcome of student or parent/guardian referrals for truancy offenses. Such a reporting system will allow school officials to determine which outcomes of prosecution are most effective, and guarantees baseline information sharing between referring agencies and prosecutors.
Overall, while prosecution for truancy remains a necessary backstop for addressing attendance problems, it is evident that the vast majority of cases can and should be resolved prior to this final step. By bolstering efforts on the front end to work with parents/guardians, and students to help them understand the law and why school attendance is important, and by critically assessing the effectiveness of law enforcement interventions in each case, District Attorneys and law enforcement can lighten their future caseloads.
Finding: NEARLY HALF OF SCHOOL DISTRICTS DO NOT TRACK WHAT HAPPENS TO STUDENTS AND THEIR PARENT/GUARDIAN AFTER THEY ARE REFERRED TO THE DISTRICT ATTORNEY FOR ATTENDANCE PROBLEMS.
This year's survey included many of the same questions asked on the 2013 survey—about districts' efforts to track and improve attendance—as well as some new questions focused on information-sharing and strategies to improve attendance for disadvantaged students under LCFF (see chapter two of this report for our findings on disadvantaged students).
CAL. EDUC. CODE § 60901(c)(1).
Review of district LCAPS Summer 2014.
Review of district LCAPS Summer 2014.
States Begin Tracking Chronic Absence But Lack A Common Definition, ATTENDANCE WORKS (March 19, 2014), http://tinyurl.com/p8sq7a2.
Id.
Hedy Chang & Cecilia Leon, Early Intervention Matters: How Addressing Chronic Absence Can Reduce Dropout Rates, ATTENDANCE WORKS 4,7 (May 24, 2013), http://tinyurl.com/q9w4bu8.
All sample notifications provided by Blackboard.
CAL. EDUC. CODE § 48260.5. For the full requirements of the notice, see CAL. EDUC. CODE § 48260.5(a)-(h).
Id.
This decline may be a function of the higher response rate in 2014.
CAL. EDUC. CODE § 48262.
Drafts of LCAPs submitted to county offices of education on July 1, 2014 were used for this analysis. Presently, not all LCAPs have received final approval from county superintendents.
Most Districts Fail to Adequately Address Chronic Absence in their LCAPs, FIGHT CRIME: INVEST IN KIDS, ATTENDANCE WORKS, AND CHILDREN NOW (August 2014), http://www.childrennow.org/uploads/documents/CA_LCAP_Analysis.pdf.
Interview with a SARB Coordinator, July 8, 2014.
CAL. EDUC. CODE § 48273.
The SARB report templates are available on the California Department of Education's website at http://www.cde.ca.gov/ls/ai/sb/outcomereport.asp.
Data compiled from district SARB reports was collected for this report in summer 2014.
The drop in post-SARB attendance tracking from 2013 to 2014 may be the result of having a substantially larger sample size of survey participants in this year's district survey, which included 158 participants in 2014.
A.B. 1672, 2013 -14 Regular Session, (Ca. 2014) http://tinyurl.com/lyazhhm.
A student is a habitual truant if they are reported as truant three or more times in a single school year. CAL. EDUC. CODE § 48262.
CAL. EDUC. CODE § 48293. For more information on California's truancy laws, please visit The Legal Framework of California's Truancy Laws.
A student is chronically truant if they are "absent from school without a valid excuse for 10 percent or more of the schooldays in one school year." CAL. EDUC. CODE § 48263.6.
CAL. PENAL CODE § 270.1.
The data from these tables comes from the California Justice Information Services Hawkins Data Center. Please note that the data only reflects those parents/guardians that were fingerprinted under these codes, and therefore may not represent the entire spectrum of those who have been charged or convicted of the relevant infractions/misdemeanors.
Data provided by the Santa Barbara County Office of Education (July 2014).
A.B. 2141, 2013 -14 Regular Session, (Ca. 2014) http://tinyurl.com/mllowa8.