Mortgage Settlements: Homeowners
Mortgage Settlements: Homeowners
To mitigate losses suffered by homeowners victimized by deceptive practices during the mortgage and foreclosure crisis, the Attorney General obtained broad-ranging settlements from three major banks in 2013 and 2014. The settlements were with Bank of America, Citibank and JPMorgan Chase & Co. and related to their packaging, marketing, sale, and issuance of residential mortgage backed securities. While each is different, all of the settlements provided reductions in principal balances, reductions in interest rates and other relief to qualified homeowners. The settlements also appointed monitors to oversee the banks to make sure they comply with settlement terms.
Not every homeowner qualifies for relief under the settlements. Those who qualify may be contacted directly by their bank or servicer, and may receive one or more forms of relief depending on their circumstances. To find out if you may be eligible for a loan modification, refinance, short sale or other foreclosure prevention relief under the settlements, contact your mortgage servicer. To find the servicer on your loan, look for a contact phone number on your mortgage statement. Contact the bank or servicer listed on the statement to ask who services or owns your mortgage loan.
National Mortgage Settlement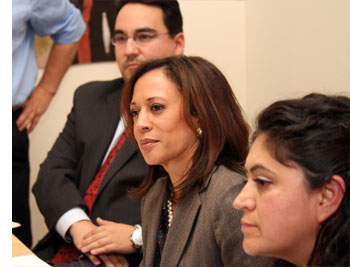 Attorney General Harris also secured significant relief for Californians under the National Mortgage Settlement, which involved five major banks: Ally Financial, Bank of America, Citibank, JPMorgan Chase, and Wells Fargo. The settlement created new servicing standards that remain in place until 2015; provided cash payments to many homeowners who were wrongly foreclosed upon; provided loan modification relief, short sale opportunities, and other relief to many distressed homeowners; and appointed a monitor to oversee the banks to ensure they complied with the settlement terms.
For detailed information about the settlement, please visit the National Mortgage Settlement website or see the National Mortgage Settlement FAQs on this site. However, please be advised that the deadline to file a claim was January 18, 2013 and claims are no longer being accepted. Questions may be directed to the Settlement Administrator at 1-866-430-8358.
To enforce the National Mortgage Settlement, Attorney General created the California Monitor Program in March 2012. The Attorney General appointed Professor Katherine Porter, a professor at UC Irvine School of Law, as the California Monitor to independently oversee and monitor the bank servicers' compliance with the settlement. In two and a half years, the California Monitor Program reviewed and responded to more than 5,000 complaints from homeowners, engaged the bank servicers through innovative compliance strategies, and conducted extensive community outreach and education. The California Monitor Program closed on September 30, 2014.
Professor Porter released a series of reports as the California Monitor, including reports on the banks' compliance with settlement reforms, issues stemming from the settlement, and her recommendations for future implementation. These reports can be found below:
Please note that these reports reflected the views of the California Monitor Program; they do not necessarily reflect the views of the California Attorney General or the California Department of Justice.