Photo Release: Attorney General Kamala D. Harris Convenes Law Enforcement Leaders, Planned Parenthood to Address Recent Uptick in Threats and Violence Against Reproductive Health Clinics
Photo Release: Attorney General Kamala D. Harris Convenes La…
Tuesday, January 26, 2016
Contact: (916) 210-6000, agpressoffice@doj.ca.gov
LOS ANGELES - Attorney General Kamala Harris today convened local, state and federal law enforcement leaders and Planned Parenthood clinic directors to discuss the recent uptick in threats and violence against reproductive health clinics and ways to increase coordination to better protect patients and health care workers.  The event consisted of a briefing for law enforcement officials on the current threats and a discussion of best practices to prevent and respond to them.
"The increase in threats and violence against patients and health care providers at reproductive health clinics is a serious threat to women's reproductive rights and public safety," said Attorney General Harris. "Patients and health providers have the right to receive care and provide services in a safe environment. This convening will help us strengthen coordination and ensure the safety of patients, health providers and our communities." 
From July through November 2014, Planned Parenthood California recorded 31 incidents of threats and violence. During the same time period in 2015, the reproductive health clinics recorded 179 such incidents. Incidents have included vandalism, suspicious packages, trespassing, harassment of security officers and alleged death threats against doctors.   
Today's convening focused on improving coordination between agencies conducting investigations into incidents in their jurisdiction, identifying patterns of incidents, and sharing best practices for local law enforcement to work with clinics to ensure the safety of staff and patients.
Photos from today's event can be found below: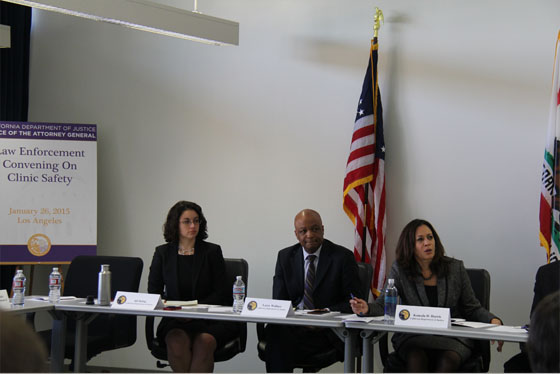 High-resolution copies of these images are attached to the online version of this news release at oag.ca.gov/news.