California Criminalistics Institute
California Criminalistics Institute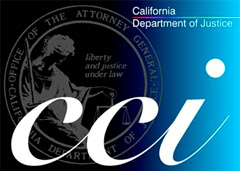 The California Criminalistics Institute (CCI), a unit of the California Department of Justice, Bureau of Forensic Services, provides specialized forensic science training to personnel who are practitioners in the field.
For years, there was a need in California for a training and research facility to serve the law enforcement and forensic science communities. Since California's criminal justice system lacked the resources to fund such a facility, the Bureau of Forensic Services (BFS) began developing a program to meet the need. In 1985, BFS sought legislative and law enforcement support for the creation of the California Criminalistics Institute. Through the efforts of the former Attorney General, Senator John Seymour, California's district attorneys, sheriffs, and police chiefs, CCI was born. CCI became a reality when the Governor signed SB 2390 (chapter 1040, statutes of 1986) in September 1986.
Our site provides links and other resources that are useful to the staff of the California Criminalistics Institute, to members of the forensic science community, and to the other interested persons.
Mission
A primary mission of CCI is to provide state and local forensic scientists with a vehicle for keeping abreast of the ever-changing trends and discoveries in the field of forensic science. The program was designed to incorporate new and developing forensic technologies into California's criminalistics laboratories. As a result, CCI:
Provides forensic training to state and local law enforcement.
Provides literature and analytical reference information to California's criminalistics laboratories.
Develops and evaluates new methodologies and equipment that will be used to provide more definitive answers to forensic evaluations.
Students
Most of the courses developed by the staff at CCI are certified by the Commission on Peace Officer Standards and Training (POST). More than 1000 students per year benefit from these courses. The students taking CCI courses include criminalists, evidence technicians, detectives and crime scene investigators from city, county, state and federal organizations.