Hate Crimes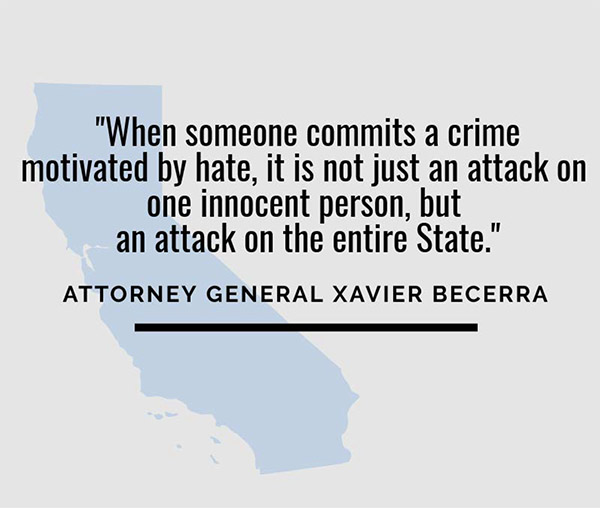 Crimes motivated by hate are not just attacks on individual innocent people – they are attacks on our communities and the entire State. It is the job of Attorney General Xavier Becerra to see that the laws of the State are uniformly and adequately enforced.
The California Department of Justice (Department) deploys tools and resources to aid and assist local, state, and federal law enforcement authorities in the investigation of possible hate crimes, including the identification, arrest, prosecution, and conviction of the perpetrators of those crimes. If you wish to report a crime, please file a report with the local police or sheriff's department.
Attorney General Becerra's Hate Crime Rapid Response Team
To ensure that the perpetrators of hate crimes are quickly identified and apprehended, Attorney General Xavier Becerra has updated the protocol for the Attorney General's Hate Crime Rapid Response Team. The team is composed of skilled law enforcement special agents and lawyers who are experts on handling civil rights issues.

The Attorney General's Hate Crime Rapid Response Team acts as a supplemental resource to local, state, and federal enforcement agencies' investigation and prosecution of hate crimes. They ensure local agencies have access to the full resources of the Department of Justice at their disposal. Attorney General Becerra believes that through a strong cooperative and team effort, state, local, and federal law enforcement agencies will be in the best position to quickly and decisively respond to the commission of a hate crime in California.
View the protocols: Protocol for Deployment of Department of Justice Resources
Hate Crimes Brochures
The Attorney General has developed a brochure with information on how to identify and report hate crimes and the services available to victims of hate crimes.
The hate crimes brochure is available in fourteen languages: English, Spanish, Arabic, Armenian (Eastern), Cambodian, Chinese (Traditional), Hindi, Hmong, Japanese, Korean, Punjabi, Russian, Tagalog, Vietnamese. The brochures can be downloaded, printed and shared online.
What Californians Need to Know to Protect Themselves and Others
Annual Hate Crimes Report
The Attorney General publishes an annual Hate Crime in California Report assessing the number of hate crime events, hate crime offenses, hate crime victims, and hate crime suspects.
The 2016 report highlights hate crime trends, including the most common types of hate crimes broken down by protected class, as well as by county and city. The Report puts these statistics in historical perspective by providing trend information on the number and types of hate crimes over the past ten years. More information, including an analysis of the number and types of hate crimes over the past decade, can be found on the Attorney General's OpenJustice website.
Hate Crime in California

This is an annual report regarding crimes motivated by the victim's race, ethnicity, national origin, religion, gender, sexual orientation or physical or mental disability as reported by law enforcement agencies.