Check Casher Permit Program
Check Casher Permit Program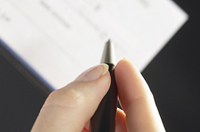 In California, every owner of a check cashing business is required by law to obtain a permit from the Attorney General's Department of Justice. This licensing process is administered by the Check Casher Permit Program.
A check casher basically engages in the business of cashing checks, warrants, money orders or similar commercial paper for a fee. The check casher law does not apply to state and federally chartered banks, savings associations, credit unions and industrial loan companies. Also excluded are retail stores that may incidentally charge a fee not exceeding $2 to cash checks or money orders as a service to customers.
While not assuring that a company is reputable, a valid permit signals that the check casher business has at least followed the law to be licensed.
Check cashing businesses in the state are required to post for clear public viewing a complete, detailed and unambiguous schedule of all fees for cashing checks, drafts, money orders or other commercial paper and for the initial issuance of any identification card. Consumers also must be able to clearly view a posted list of valid identification that is acceptable in lieu of identification issued by the check casher.
The Check Casher Permit Program was established upon enactment of Civil Code section 1789.37 by the California Legislature in January 1995.
If you have questions about the Check Cashier Permit Program, please Contact Us.