Cindy Lee Mellin
Missing Person
Missing Since:
Sex:
DOB:
Race:
Height:
Eyes:
Weight:
Hair:
AKA:
Nickname:
Clothing:
Scars/Marks/Tattoo:
Jewelry:
Other Identifier:
Dental X-rays Available:
Contact
| | |
| --- | --- |
| Agency: | |
| Phone Number: | |
| Case Number: | |
Suspect
Name:
DOB:
Race:
Sex:
Height:
Weight:
Eyes:
Hair:
Alias:
Scars/Marks/Tattoo:
Note:
Vehicle
Make:
Model:
Year:
Color:
Plate No:
State:
Description: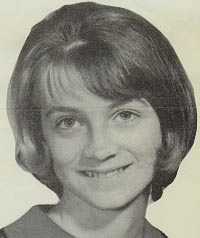 Clothing:
Navy blue dress with red buttons, Brown corduroy coat, Blue shoes with gold buckles.
Jewelry:
Gold ring with a single pearl.
Other Identifier:
Cindy was last seen in the parking lot at work with an unknown white male adult who appeared to assist in changing her flat tire.
Dental X-rays Available?:
Cindy was last seen January 20, 1970 in Ventura, CA