Johan Leandro Garcia
Missing Person
Missing Since:
Sex:
DOB:
Race:
Height:
Eyes:
Weight:
Hair:
AKA:
Nickname:
Clothing:
Scars/Marks/Tattoo:
Jewelry:
Other Identifier:
Dental X-rays Available:
Contact
| | |
| --- | --- |
| Agency: | |
| Phone Number: | |
| Case Number: | |
Suspect
Name:
DOB:
Race:
Sex:
Height:
Weight:
Eyes:
Hair:
Alias:
Scars/Marks/Tattoo:
Note:
Vehicle
Make:
Model:
Year:
Color:
Plate No:
State:
Description: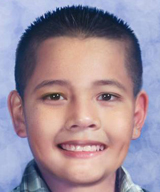 Scars/Marks/Tattoos:
Birthmark on upper right arm, birthmark above right eyebrow, birthmark on back of right knee
Dental X-rays Available?:
Johan is being concealed by his father, Johan Garcia (DOB: 3/10/1979) from his mother and they were last seen on August 24, 2004, in Jersey City, New Jersey. They may possibly be in the Los Angeles area. Photo on the left is age-progressed to 9 years of age. Age progression is provided by the National Center for Missing and Expolited Children (NCMEC).