Monserrat Rivera
Missing Person
Missing Since:
Sex:
DOB:
Race:
Height:
Eyes:
Weight:
Hair:
AKA:
Nickname:
Clothing:
Scars/Marks/Tattoo:
Jewelry:
Other Identifier:
Dental X-rays Available:
Contact
| | |
| --- | --- |
| Agency: | |
| Phone Number: | |
| Case Number: | |
Suspect
Name:
DOB:
Race:
Sex:
Height:
Weight:
Eyes:
Hair:
Alias:
Scars/Marks/Tattoo:
Note:
Vehicle
Make:
Model:
Year:
Color:
Plate No:
State:
Description: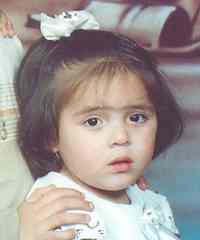 Clothing:
Red t-shirt, red skirt and white shoes.
Scars/Marks/Tattoos:
Birthmark on the abdomin near the naval.
Jewelry:
14k gold necklace with an oval pendant of the Virgin Mary.
Dental X-rays Available?:
Monserrat and her two siblings, Wesley Rivera, MHJ, 6 years of age and Alejandra Romero, FHJ, 8 years of age, are being concealed by her non-custodial father, Alejandro Avina Rivera. Rivera is described as a MHA, DOB 1/29/1965, 5 ft.7 in., 162 lbs., with black hair and brown eyes. It is believed that the suspect has taken the children to Mexico. A felony warrant has been issued for the suspect‰Ûªs arrest.