RIPA Board Reports and Videos
RIPA Board Reports and Videos
As required by AB 953, each year California's Racial and Identity Profiling Advisory (RIPA) Board must produce a report on the past and current status of racial and identity profiling with policy recommendations for eliminating it.
RIPA Video: Data Integrity
Under the Racial and Identity Profiling Act, by 2022, nearly all law enforcement agencies in California will be required to collect detailed information regarding stops and searches, including data on perceived demographics. This video outlines steps law enforcement are taking to ensure the data best reflects reality as well as the impact community organizations and academics hope the data will have on efforts to tackle racial profiling throughout the state.
2019 RIPA Board Report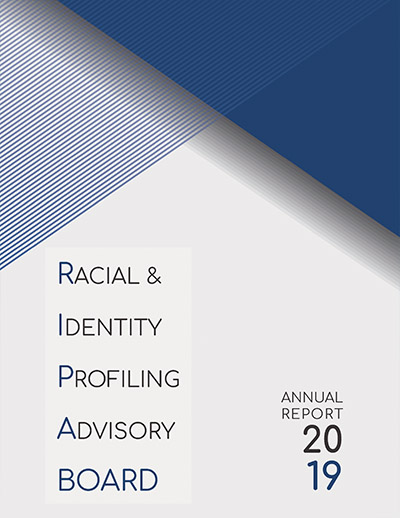 California's Racial and Identity Profiling Advisory (RIPA) Board has released its second annual report. This report aims to enhance the transparency of the stop data collection process by providing the public with detailed information on how the data is collected and submitted and how the California Department of Justice and law enforcement agencies ensure the integrity of this data. The report also provides recommendations that can be incorporated by law enforcement agencies to enhance their policies, procedures, and trainings on topics that intersect with bias and racial and identity profiling.
This year's report builds on the foundation established by last year's report for identifying and addressing racial and identity profiling in California policing. The 2018 report was accompanied by a video that introduced the Board and its work.
For information on all of the RIPA Board's reports, please see the RIPA Board Reports page.
Additional Resources
URSUS
CCAPO