RIPA Board Reports
RIPA Board Reports
2021 Quick Facts
Officers searched, detained on the curb or in a patrol car, handcuffed, and removed from vehicles more Black individuals than White individuals, despite stopping more than twice the number of White individuals (1,322,201) than Black individuals (635,092).
Actions Taken by Race/Ethnicity
Overall Actions Taken During Stops by Officers
Overall Search and Discovery Rates
Black individuals were searched 2.5 times the rate of White individuals. Search discovery rates refer to the proportion of searched individuals found to be in possession of contraband or evidence. Although Black, Hispanic, and Multiracial individuals were searched at a higher rate than White individuals, officers discovered contraband or evidence at a lower rate for those racial/ethnic groups in comparison to searches of White individuals.
Use of Force
Odds of Officers Using Force Compared to White Individuals

Officers were more likely to use force against Black and Hispanic individuals compared to White individuals, whereas officers were less likely to use force on Asian and other individuals. Specifically, the odds of an officer using force during a stop were 1.45 times and 1.18 times greater for Black and Hispanic individuals, respectively, than White individuals. The odds of an officer using force during stops of Asian or other individuals were 0.83 and 0.93 times lower, respectively, compared to White individuals.
Additional information can be found on the Fact Sheet to 2021 Report, pdf
---
2021 RIPA Board Report
As required by RIPA, each year California's Racial and Identity Profiling Advisory (RIPA) Board produces a report on the past and current status of racial and identity profiling with policy recommendations for eliminating it.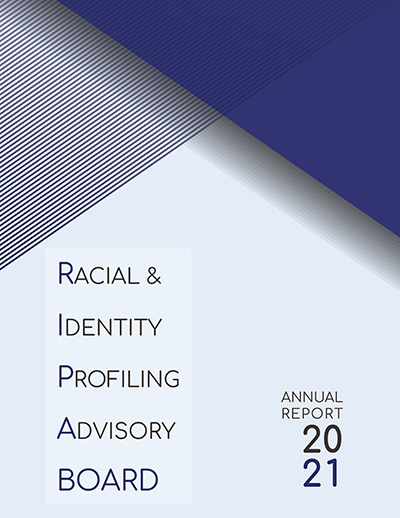 California's Racial and Identity Profiling Advisory Board (Board) is pleased to release its Fourth Annual Report. The Report provides recommendations from the Board for all law enforcement agencies, policymakers, the Commission on Peace Officer Standards Training (POST), community members, and advocates – on policy reform, rooted in best practices, to help all law enforcement agencies eliminate racial and identity profiling and improve law enforcement and community relations. Download the full 2021 Report
Additional Resources
Previous RIPA Reports
On January 1, 2018, the RIPA Board released its first annual report. This was California's first statewide report on racial and identity profiling in law enforcement.

The 2018 report was accompanied by a video that illustrates the purpose of the RIPA Board – including comments from members of the Board and the public on the need for the Board – and highlights the work of the Board.