Field Supervisor Steven L. Armenta
Field Supervisor Steven L. Armenta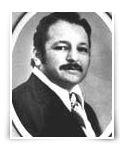 California Department of Justice, California
End of Watch: Friday, December 7, 1973
Field Supervisor – Bureau of Narcotic Enforcement
San Francisco Field Office
On December 5, 1973 Field Supervisor Armenta made an undercover purchase of cocaine in the city of Benicia. Immediately following the purchase Armenta and other agents attempted to arrest the suspects.
One of the suspects shot and wounded Steve who died two days later in a Sacramento hospital.
He was survived by his wife and two children.