Special Agent Gerald M. Regan
Special Agent Gerald M. Regan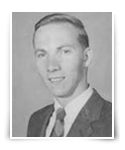 California Department of Justice, California
End of Watch: Wednesday, November 5, 1969
Narcotic Agent – Bureau of Narcotic Enforcement
Fresno Field Office
On November 5, 1969 Agent Regan was assisting the Federal Bureau of Narcotics and Dangerous Drugs in an investigation of suspects who were operating a methamphetamine laboratory in Mariposa County.
During a high speed chase Jerry was involved in an accident and was killed. Agent Regan had served with the agency for five months and was assigned to the Bureau of Narcotic Enforcement. He had previously served as a reserve deputy for the Fresno County Sheriff's Department.
He was survived by his wife, parents, and brother.