Special Agent William Randall Bolt
Special Agent William Randall Bolt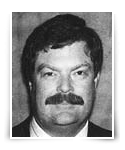 California Department of Justice, California
End of Watch: Tuesday, May 9, 1995
Special Agent – Bureau of Narcotic Enforcement
San Francisco Field Office
On May 9, 1995 Special Agent William (Randy) Bolt, was killed in a head-on collision with another vehicle in the Vallejo area on Highway 37.
Randy was enroute to a training class when another vehicle veered into his lane causing the collision. Randy had previously served with the San Rafael Police Department and Placer County Sheriff's Department.
He is survived by his wife, son, and daughter.