Serving Victims
Serving Victims
Through the Victims' Services Unit (VSU), crime victims and their families are offered support and information to guide them through each stage of the criminal process. Victims have rights, and the Attorney General is committed to ensuring that those rights are protected. The VSU provides appeal notification to victims and their families, as well as assistance and outreach when the Attorney General's Office is prosecuting a case. To request to be notified of the status of an appeal that the Attorney General's Office is handling or on a case that the Attorney General's Office is prosecuting visit: Marsy's Law - Victim Notification.
Victims' Bill Of Rights: Marsy's Law
Californians approved Proposition 9, the Victims' Bill of Rights Act: Marsy's Law, in November 2008. Marsy's Law expanded the rights of victims. An overview of the rights is listed, along with helpful resources, on a card that can be printed out from this website, Marsy's Card.
Missing Persons Unit
The Missing and Unidentified Persons Unit helps law enforcement agencies locate missing persons or identify unknown live and deceased persons. Services include:
Searchable database for missing persons
Publication of missing person bulletins and monthly posters (Subscribe to Bulletins)
Compilation of missing persons statistics
Missing Adults
Sahro Mohammed Hassan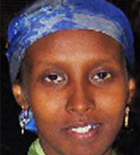 Sahro is missing with her son, Amir Mouwakeh (DOB: 10/9/2007) and they were last seen on March 1, 2008, in San Diego.