Truancy Toolkit
This coalition of key partners—government agencies, community organizations, and professional associations—provided crucial feedback and support.
This toolkit was created by the California Attorney General's Office, the Ad Council, and the California Endowment, in partnership with leaders fighting to reduce chronic absenteeism in California.

We sent communications experts to talk to nearly 1,000 parents of elementary school children who missed 10+ school days in the previous year. Based on what they learned, those experts developed this toolkit. Teachers, administrative professionals, school nurses, principals, and community leaders will find resources, tips, and research addressing a critical question: What's the best way to talk to parents about absences in elementary school?

As you explore the toolkit, please keep in mind that parent communication is only one important piece of an effective strategy for reducing chronic absenteeism. Experts recommend a 3-tiered intervention strategy that targets specific groups of students in need:
These tools to effectively communicate about attendance are based on our findings from messaging research conducted by the Ad Council.
Comprehensive findings from qualitative and quantitative research conducted to understand how parents of elementary school students think about attendance and how we can help shape that understanding.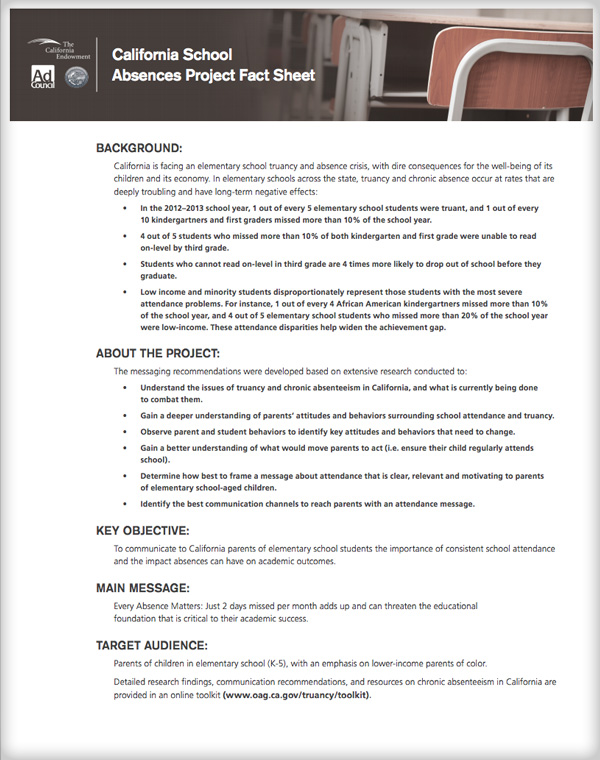 Project Fact Sheet
Background on the issue of elementary school truancy and chronic absenteeism in California, project partners, and research objectives.
Qualitative Research Report
Findings from extensive qualitative research among experts and parents of chronically absent elementary school students. This report includes detailed findings that informed the quantitative research phase.
Quantitative Research Report
Findings from the quantitative validation and message survey among parents of chronically absent elementary school students.
Recommendations for how to design a communications strategy to talk to parents about their children's absences and how best to reach them.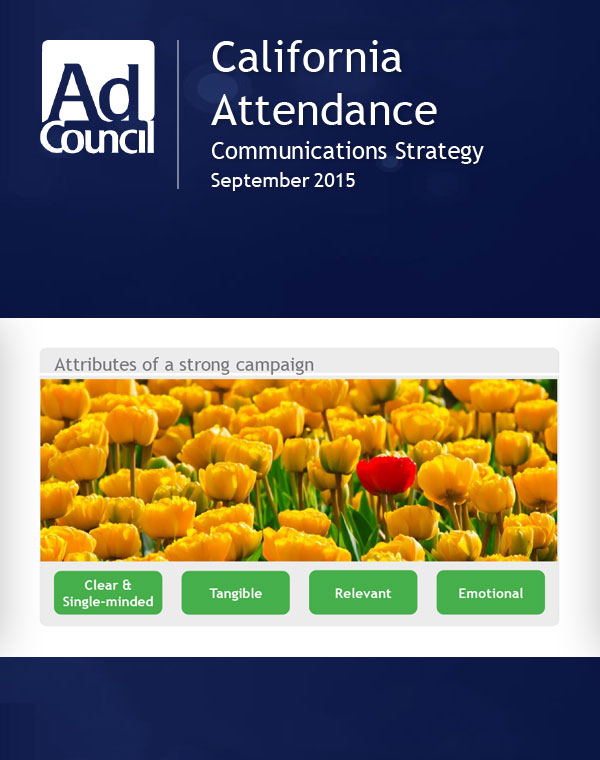 Webinar on How to Talk to California Parents of Elementary School Children About Absenteeism
Presentation outlining the key research findings and the recommended communication strategy for targeting parents of children in grades K-5.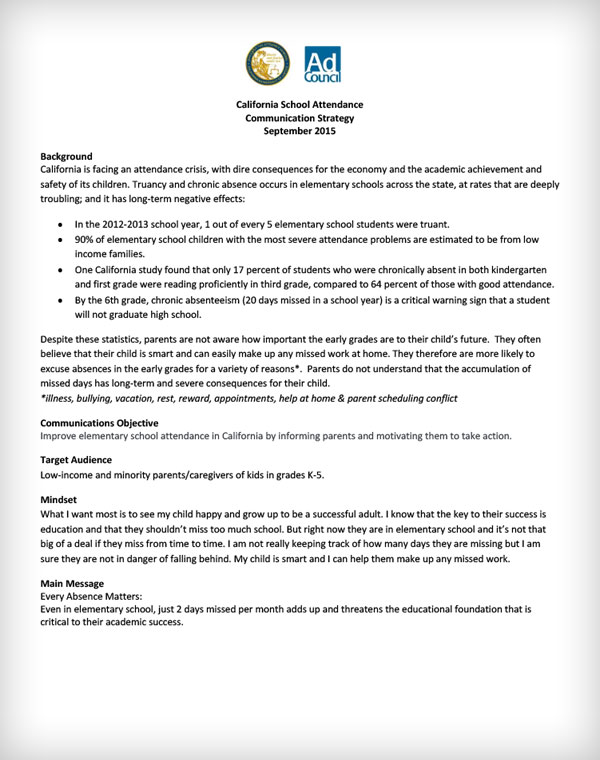 Communication Strategy and Messaging Recommendations
Key insights and recommendations for how to frame your messaging to parents.
Message Channel Plan
Recommended medial channels, outlets, and strategies for leaders who are considering a media strategy (e.g. social media, television, newspapers).
Have questions or want to add to our toolkit?
Contact us
!