Game Rules
Game Rules
California Card Room Locations by Region
Click on an area of the map to view a listing of card rooms, by county, in a specific geographical region of the State.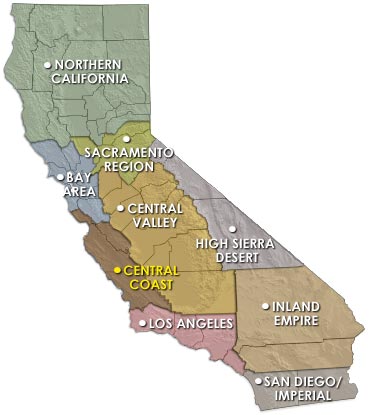 BAY AREA - Alameda, Contra Costa, Marin, Napa, San Francisco, San Mateo, Santa Clara, Solano, Sonoma
CENTRAL COAST - Monterey, San Benito, San Luis Obispo, Santa Cruz
CENTRAL VALLEY - Fresno, Kern, Kings, Madera, Mariposa, Merced, San Joaquin, Stanislaus, Tulare, Tuolumne
HIGH SIERRA & DESERT - Alpine, Mono, Inyo
INLAND EMPIRE - Riverside, San Bernardino
LOS ANGELES - Los Angeles, Orange, Santa Barbara, Ventura
NORTHERN CALIFORNIA - Butte, Colusa, Del Norte, Glenn, Humboldt, Lake, Lassen, Mendocino, Modoc, Nevada, Plumas, Shasta, Sierra, Siskiyou, Sutter, Tehama, Trinity, Yuba
SACRAMENTO REGION - Amador, Calaveras, El Dorado, Placer, Sacramento, Yolo
SAN DIEGO / IMPERIAL - Imperial, San Diego
Game Rules
All controlled games and gaming activities, such as jackpots, bonuses and drawings must be approved in writing by the Division of Gambling Control and must comply with local gaming ordinances prior to the play at a licensed card room. Here you can find information regarding the process for Division approval of games and gaming activities, as well as the rules and collection rates for all games approved for play in California's card rooms.
View a listing of card rooms in California and links to their approved game rules and collection rates.
Note: The game rules and collection rates are displayed as submitted by the individual gambling establishment pursuant to Business and Professions Code section 19826 (AB 1489 - Chapter 598, Stats. of 2004). The web site is updated on a monthly basis to include additional or revised material received from each card room. The documents are not the product of the Division of Gambling Control. For the most current information, contact the individual card rooms directly.
Game Approval
Card rooms seeking approval of a new game, or a gaming activity must submit an application with applicable fees. Changes in game rules or gaming activity will also require approval by the Division.
Click on the links below to view the appropriate application form. These forms specify the required fees and necessary information.
Additional information regarding the game approval process can be found in the
Regulations & Laws.